Skip to content
TD Economics
Who We Are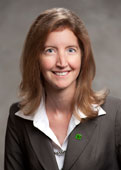 Beata Caranci
Vice President and Deputy Chief Economist
TD Bank Financial Group
Beata Caranci holds a Master's Degree in Business Economics. She has been an economist in the financial industry since 1998. Prior to joining TD Economics, she worked nearly four years on a trading floor providing economic analysis to foreign exchange, money market and bond desks.
Beata is the Vice President and Deputy Chief Economist for TD Bank. In her role, Beata leads a team of economists and travels across North America speaking on economic and financial trends for the U.S., regional and international economies. As a respected commentator on economic and financial trends, she has been quoted by many media outlets - including the Financial Times, CNN Money, and The Associated Press.
Beata also maintains a strong interest in supporting TD Bank's diversity initiatives and has written several reports on the challenges and opportunities faced by women in the workplace. She has participated on a number of committee's within TD Bank, including the Choice@work Committee and the Women in Leadership Committee for corporate operations.
For a PDF version of this bio click here