Momentum = Building on Our Commitments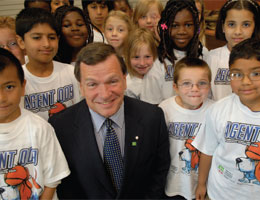 Literacy champion Frank McKenna, TD's Deputy Chair, kicks off the 2009 TD Summer Reading Club in Hamilton, Ontario
COMMITTED TO SUPPORTING COMMUNITIES
In 2009, we gave more than $50 million to support not-for-profit groups in Canada and the U.S. That's over $3 million more than in 2008. Why did we increase our giving in a year of global economic crisis? Because our communities need help more than ever in tough times. And because supporting the communities where our employees and customers live is a priority for us. It's one of the ways we're working to fulfill our vision of being the better bank.
MAKING A DIFFERENCE THROUGH THE UNITED WAY
One of the most visible ways TD and its employees help make a difference in communities on both sides of the border is through our partnership with the United Way. In 2009, TD's employee giving campaigns and corporate United Way donations directed more than $10 million to North American charities aimed at improving the lives of those in need.
HELPING IMMIGRANTS ACHIEVE SUCCESS
We recognize the huge potential of skilled new immigrants – and the challenge many of them face in getting jobs that reflect their experience. That's why we've been a leading supporter of the Toronto Region Immigrant Employment Council's Mentoring Partnership since it started in 2005. Since then, TD employees have been involved in more than 500 mentoring relationships. The program has proven so successful that in 2009 we provided funding and mentors to help take the idea to other cities across Canada.
Overview of TD's Giving in Canada and the U.S.
2008
2009
Canada
$35.5 million
$37.0 million
U.S.
US$11.5 million
US$13.9 million
Despite difficult economic times, our giving increased on both sides of the border.
Supporting Affordable Housing
The Housing for Everyone grant competition provided more than $3 million to support affordable housing programs from Maine to Florida. Organizations were invited to submit proposals for cutting-edge ideas that would help stabilize the housing environment.
RECOGNITION FOR GOOD CORPORATE CITIZENSHIP
In 2009, Corporate Knights magazine named TD one of the Best 50 Corporate Citizens in Canada. We were also ranked as one of the 50 Most Socially Responsible Corporations by Maclean's magazine.
PROMOTING LITERACY
Literacy is key to economic prosperity and building a strong future, and in 2009, we invested in a number of programs aimed at building literacy skills in children. TD supports summer reading club programs in both Canada and the U.S. In 2009, the program helped more than 500,000 North American children keep up their reading skills during the summer.
TD's complete 2009 Corporate Responsibility Report will be available online in March 2010 at www.td.com/corporateresponsibility. The report provides details of TD's activities and achievements as a responsible corporate citizen. Our report continues to follow the standards set out in the Global Reporting Initiative (GRI) Sustainability Reporting Guidelines. These are the most widely used international guidelines for measuring and reporting economic, environmental and social performance over time.