DR. SUSAN FORBES AND DR. LORI LIVINGSTON
THUNDER BAY, ONTARIO
As professors at Lakehead University in Thunder Bay, Ontario, Susan Forbes and Lori Livingston prefer focusing on their careers as educators, spending time on the golf course and enjoying married life – not worrying about their investments. They feel they can do that now, but it wasn't always the case. Before switching to a TD Wealth Management financial advisor, they weren't confident the advice they were getting was the best. One day Susan started talking with a fellow golf-fanatic who happened to be a TD employee. That conversation led to some formal meetings – and a feeling that TD was the right financial partner for the couple. Now, as TD customers, Susan and Lori are confident in their relationship with TD – one that is built on good advice and solid trust.
"We're pleased with the service we receive," says Susan Forbes. "Not only are TD staff knowledgeable, but they care about their clients. We learned more in just two meetings with our TD financial advisor than we had with any of our previous advisors."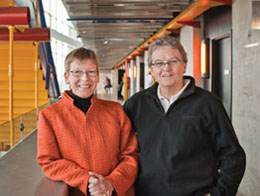 Providing an Unparalleled Wealth Management Offering
At TD Wealth Management, we help our retail and institutional clients build, preserve and transition wealth. And we work hard to provide an exceptional client experience. To help us do that, in 2009 we added 75 new advisors in our advice-based businesses and expanded our product offerings so we could better meet the evolving needs of our clients. For example, our advisors are equipped with tools to guide financial planning discussions with people in same-sex relationships.
Building Our European Wealth Presence
It has been a year of strategic acquisitions and organic growth for TDWaterhouse in the U.K. We've increased our stake in Internaxx Bank, the leading offshore online bank for expatriates; formed TD Waterhouse Corporate Services (Europe); and launched an online trading platform in Ireland. These initiatives have helped us secure our position as the leading discount brokerage in the U.K., paving the way for us to expand our online business to other European countries. In 2009, TD Waterhouse won a string of U.K. awards including Stockbroker of the Year at the prestigious Financial Times and Investors Chronicle Investment Awards.