MAYO SCHMIDT
CALGARY, ALBERTA
Mayo Schmidt joined Viterra, a Saskatchewan-based agribusiness, in 2000. Since then, he has engineered the transformation of Viterra from a western Canadian agribusiness to a global leader. Today, following the company's merger with Agricore United, Viterra is Canada's largest publicly traded agribusiness. It also has a leading agricultural presence in Australia, having acquired ABB Grain in 2009. Along the way, Viterra has turned to TD Securities as a lead financial advisor on transformative decisions that have helped it become the company it is today.
"As we grow our business and find new and better ways to maximize agricultural production, we continue to look to our valued partners," says Mayo Schmidt, President and CEO of Viterra. "We truly are a company that benefits from being in the right industry, with the right assets, at the right time. With the continued support of partners such as TD Securities, I'm confident we will be able to make the most of that position."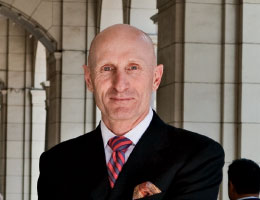 Enhancing Our Wholesale Business Strategy
TD Securities had a record year in 2009 with strong, broad-based performance across all business lines. Our business strategy is franchise-focused and our risk profile is transparent. Looking ahead, we are well positioned to solidify our status as a top-ranked Canadian-based, integrated investment dealer.