CHARLES AND BRENDA BAIRD
TORONTO, ONTARIO
Charles and Brenda Baird rely on their van to get around. Outfitted with accessibility features to accommodate Brenda's wheelchair, their van is Brenda's main form of transportation. So when the van was stolen, targeted specifically for the wheelchair ramp, the Bairds were devastated. Even more so when they contacted TD Insurance and realized they hadn't insured the van as an accessibility vehicle and as a result wouldn't receive enough money to cover the full cost of a replacement. Working together, TD and ABLE transport Ltd. replaced the van, complete with new features that allow Brenda to ride in the front seat next to her husband – something she hadn't been able to do before.
"After the van was stolen, the first thing I did was call TD," says Brenda Baird."They really went above and beyond to help us. The new van is great – I love riding in the front seat next to my husband."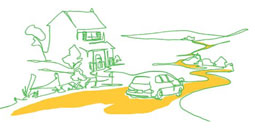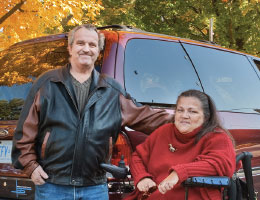 A Leading Insurance Provider
TD Insurance products provide credit protection, life, health, travel, home and auto insurance to Canadians. TD Insurance Home and Auto is the largest direct-response insurer and the number 2 automobile insurer in the country. TD Insurance provides the largest number of critical illness policies in the country. Our more than 4,000 employees help protect over three million clients from the "accidents of life" through insurance solutions that are easy to purchase and understand. TD Insurance is also present in the U.S. through TD Insurance Agency (U.S.), the largest agency in New England, offering a broad range of personal and commercial insurance products to northeastern U.S. consumers.