Momentum = Building on Our Commitments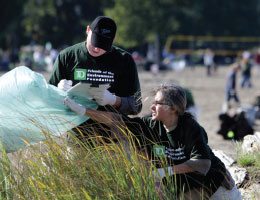 COMMITTED TO CARING FOR THE ENVIRONMENT
We're committed to being an environmental leader in the North American financial services sector. We recognize that when it comes to the environment, the world is changing in fundamental ways – ways that will affect our business, customers, clients and employees. We're taking action to understand the risks and address them.
MANAGING OUR OWN ENVIRONMENTAL FOOTPRINT
In 2008 we declared that our Canadian operations would be carbon-neutral by the end of 2010. We were the first bank in Canada to make a carbon-neutral commitment, and we're on track to reach our goal. How are we getting there?
We're becoming more energy-efficient – retrofitting the lighting and optimizing the heating and cooling systems in our buildings.
We're purchasing renewable energy – we're now one of the largest corporate purchasers of green energy in Canada.
We're funding reductions in carbon emissions produced by others – in return we'll receive credit for those reductions to offset our remaining emissions.
We're also reducing paper usage by five per cent per year and reducing our non-paper waste.
We've introduced a green procurement strategy.
Our efforts are being recognized. In 2009, TD joined the Global 100 list of the most sustainable corporations in the world; we were chosen as one of Canada's Greenest Employers by Mediacorp Canada; and we were named a Climate Disclosure Leader by the Conference Board of Canada and the Carbon Disclosure Project.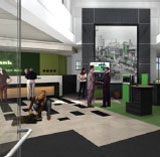 GREEN BUILDING IN THE U.S.
In the U.S., we're focused on making our buildings green. In 2009, we retrofitted more than 500 stores to make them more energy-efficient. In Queen's Village, New York, building began on a new green store (architect's rendering above) that includes solar panels and high-efficiency heating and cooling and makes extensive use of natural light. Energy efficiency will be our focus as we build new stores in the U.S.

A UNIQUE APPROACH TO CARBON OFFSETS
We look for opportunities to offset our carbon emissions and at the same time help not-for-profit organizations. Take our green initiative with Habitat for Humanity, announced in 2009. We're providing Habitat for Humanity with funding for green building materials and energy upgrades in homes that will be built over the next three years. In return we'll receive carbon offsets. Not only will energy use be reduced, but it'll mean lower costs for the low-income Habitat families.
MAKING SURE WHAT WE DO FOR OUR CUSTOMERS AND CLIENTS IS GREENER
All our major businesses now offer more environmentally friendly products, including insurance discounts if you drive a hybrid vehicle, cash management accounts, loans and mortgages, investment funds, business financing and carbon trading.
CLEANING UP OUR SHORELINES
For 20 years, the TD Friends of the Environment Foundation (TD FEF) has been bringing TD customers, clients and employees together to help protect Canada's wildlife and environment. Since 1990, the foundation has given more than $50 million in funding to over 18,400 grassroots environmental projects across the country.
One of our flagship programs is the TD Great Canadian Shoreline Cleanup. A record 1,568 sites were cleaned in 2009, with just under 20 per cent of our Canadian workforce – or about 9,000 employees – participating at various sites such as the one in Vancouver below.