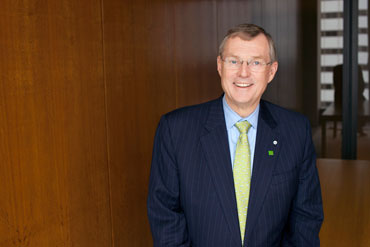 VIEW VIDEO
CEO's Message
This was another record year for TD. Thanks to the strength of our North American franchise and ongoing investments in our business, we posted $6.3 billion in adjusted income – 20 per cent growth over last year – despite ongoing macroeconomic challenges and market volatility. We continued to increase our scale, opening 24 new branches in Canada and 37 new stores in the U.S. We also completed our acquisition of Chrysler Financial to build out TD Auto Finance and acquired substantially all of MBNA Canada's credit card portfolio, broadening the North American reach of our card business.
Year in review
Our achievements over the past year demonstrate the strength of our retail-focused business mix, as well as the client-driven franchise model of our Wholesale bank. This allowed us to outperform despite slower economic growth and heightened regulatory challenges. We began the year certain that the regulatory and economic environment would be tough. As it turned out, 2011 truly showcased the power of TD's business model. We're extremely pleased with our results.
Our domestic Personal and Commercial Banking business performed exceptionally well, thanks to continued resilience in the Canadian housing market, strong volume growth in personal and business deposits and loans and a strong performance from TD Insurance.
TD Bank, America's Most Convenient Bank®, had another fantastic year, posting record adjusted results despite having to absorb the full impact of new overdraft fee regulations. We continued to grow our Maine-to-Florida footprint by opening new stores and we successfully integrated The South Financial Group. We saw strong deposit growth and remained committed to supporting our customers and clients through strong lending growth, which again this year will exceed peer performance.
It was also a fantastic year for our Wealth Management businesses, which combined had record profits. The Canadian business continued to do a great job at gathering assets and saw healthy trading volumes throughout a volatile year. In the U.S., TD Ameritrade again took market share in asset gathering while remaining the leader in trades per day.
Wholesale finished the year on a strong note, despite tough economic conditions. Markets came under heavy pressure from the European and U.S. debt crises, as well as weaker than expected U.S. economic data. All of these factors had a significant impact on our fixed-income trading business. While we expect markets will stay challenging in the short term, we believe we have the right strategy for when they normalize and we will continue to focus on building our competitive franchise businesses where we have made significant progress in establishing our leadership position in Canada.
Customers and communities
Our commitment to delivering legendary customer experiences again set us apart from the pack in 2011 and sits firmly at the core of our business model. We again raised the bar in customer service this year with TD Canada Trust remaining the only large Canadian bank to be named best in customer satisfaction by J.D. Power & Associates, an honour we've received for six years in a row. For the seventh consecutive year, we also earned Synovate's "excellence in customer service" award. Euromoney, a leading international business magazine, also named TD the Best Bank in North America for the third year running.
Great customer service also means standing by your customers during tough times. Our TD Helps program in Canada, designed to help customers impacted by the financial crisis, has now assisted more than 115,000 customers in its two years of existence. We also continue to support the communities in which we do business, through more than $66 million in local investments. It was an honour for me to chair the United Way Toronto campaign in 2010, not only for the record-breaking fundraising results United Way announced in January, but also because of the incredible efforts of our employees, who responded in a real time of need.
All of our accomplishments this year were underpinned by an incredible team of more than 85,000 people who make TD successful each and every day. We strive to create a unique and inclusive employee culture because we understand that our employees are integral to our future. We've been able to add talent and expertise across the Bank thanks to the strength of our employment brand in 2011. TD was named one of Aon Hewitt's 50 Best Employers in Canada for the fourth consecutive year.
The right strategy
At its core, TD works to produce long-term, profitable growth by building great franchises and delivering value to our customers, shareholders and communities. There is a clear reason this strategy hasn't fundamentally changed: it's simple, it's adaptable and it has a proven winning record.
Our focus on steady, reliable retail earnings has clearly paid off. Almost 90 per cent of our adjusted profit came from our retail platform, which helped shield us from some of the volatility seen around the world as a result of sovereign debt problems, the U.S. fiscal situation and the sluggish pace of economic recovery.
TD's domestic retail bank is a great example of how our strategy lets us succeed even when interest rates are near historic lows. We saw strong growth in business banking and insurance – two of the areas in which we outperformed and where we continue to see good upside. And while growth in personal banking volumes moderated as expected, we saw a resilient performance from our stable and mature real-estate secured lending business. Building off a great year, we expect continued earnings momentum in our Wealth business as we attract and grow client assets, expand our direct investing and advice-based businesses and remain focused on building, preserving and transitioning wealth for our retail and institutional clients.
In the U.S., we've continued to see strong volume growth and we've gained market share by lending to good-quality customers and businesses. We're also committed to helping drive the U.S. economic recovery and recently joined a number of other banks in a pledge to double our small-business lending in the next three years. We're confident that our U.S. franchise is well positioned for continued growth.
Our Wholesale bank has a diversified, client-focused business model and this year showed it's capable of withstanding a tough environment, delivering a return on invested capital of more than 24 per cent in 2011. It wasn't long ago that we set our sights on being a top-3 dealer, and today we're competing for the No. 1 or No. 2 spot with our Canadian peers. We're very pleased with the direction of TD Securities and we're confident it can continue to perform well despite challenging market conditions.
A growth-oriented bank
The expansion of our platform this year was again a blend of organic growth and acquisitions. Aside from adding new locations to our network to better meet the needs of our customers, we continue to look for new growth platforms and to increase our scale in underpenetrated businesses.
We acquired Chrysler Financial, enabling us to create a top-5 North American bank-owned auto lender. The acquisition is performing well as part of TD Auto Finance and we view it as a great platform for asset generation. We also acquired substantially all of MBNA Canada's credit card portfolio. This transaction positions us as a top-tier dual credit card issuer and complements our leading branch distribution and affinity capabilities.
These two acquisitions were consistent with our conservative approach to risk: we only take risks we can understand and manage. In the case of Chrysler Financial, auto loans performed well during the recession, which was part of what made us comfortable with the portfolio. And we have extensive experience in the credit card business, so we clearly understood what we were buying in the MBNA Canada transaction.
Our businesses' strong ability to generate organic capital continued to bolster the strength of our balance sheet, with a Tier 1 capital ratio of 13.0% at the end of the fiscal year. We believe that by mid-2012, we will comfortably exceed the Basel III requirement on a fully phased-in basis. We also raised our common share dividends twice during fiscal 2011, up 11.5%. This decision reflects the confidence your board has in TD's ability to deliver sustainable, long-term earnings growth.
We continue to look for new revenue streams and we'll launch new products and services which make sense for our customers and help us grow long-term earnings. In 2011, this included investments in our phone, ATM and online banking capabilities, driving new product innovation and service and convenience improvements.
Our service offering revolves around understanding what customers seek in their bank. For example, we're open longer and we offer seven-day banking because we understand that not all of our customers bank during the same business hours. We also understand that many of our customers don't bank through the branch, so we launched an easy-to-use mobile phone application which has become Canada's most downloaded banking app.
The year ahead
I've spoken in the past about TD crossing the recessionary valley created by the financial crisis and emerging with momentum on our side. However, it's also clear that we've emerged from that valley only to find a plain stretching before us – flat interest rates, flat economic growth and a generally tough operating climate. We're keenly aware we can't be complacent in this environment. That's why we're closely managing the rate of our expense growth while looking for new sources of revenue. This isn't just about deferring expenses or scaling back discretionary budget items. It's about re-thinking and re-engineering how we do business and optimizing the investments we continue to make for the future of our franchise. It's about working smarter for our customers as we continue to build The Better Bank.
TD has a strong business model with a proven track record during tough times and we believe that challenging markets favour companies like ours. Today, we're stronger than we were heading into the 2008 financial crisis and our businesses are nimble and flexible enough to adapt without having to shift their core strategy.
TD Canada Trust is an incredible growth story and we're confident it can continue to deliver despite low rates and a moderation in personal lending growth. This will likely mean some rotation in the sources of earnings, with our business banking, insurance and Wealth businesses playing a greater role.
Our Wealth business has good momentum and we expect it will continue to see steady flows from new clients, despite volatile markets. It will also provide TD's retail and business banking clients with a proposition based on legendary TD service, great advice, best-in-class direct investing, competitive products and services, and a unique focus on women investors.
In the U.S., I'm confident we'll be able to offset the significant impact of the Durbin Amendment over time, as we did with a similar-sized overdraft regulation challenge in 2010. We not only absorbed a significant amount of that impact, but also posted record results in the process. We're confident we will be able to respond to new challenges once again. We're not focused on just weathering another storm. We're focused on growing through it.
TD Securities will continue to build out its franchise businesses and deliver value to its clients by meeting their investment, liquidity and funding requirements. The business should see growth from its core dealer operations next year and we expect it to generate solid risk-adjusted returns on capital despite an expected tough trading environment.
When I wrote to you last year, I said it's going to get tougher to repeat our past successes. Today, I don't see much to change this view. However, the enduring resilience and proven strength of our business model – combined with the incredible dedication that our employees show every day to our customers – make me confident that TD's biggest milestones still lie ahead of us.