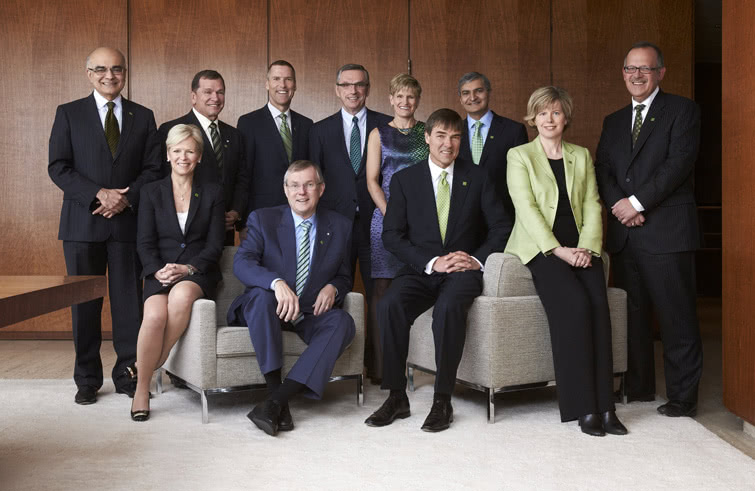 Senior Executive Team
TD is the sixth largest bank in North America by branches, serving approximately 22 million customers in four key businesses across the globe.
Canadian Personal and Commercial Banking
TD Canada Trust offers personal and business banking to more than 12 million customers through a wide range of products and services, from chequing and savings accounts to credit cards, mortgages, business banking, credit protection and everyday financial advice.
TD Canada Trust makes banking more comfortable for its customers through award-winning service via 24/7 mobile, online and telephone banking, and a network of more than 2,600 ATMs. Convenient hours in over 1,100 branches help TD Canada Trust serve its customers better.
TD Auto Finance Canada is a leading financial solutions provider offering flexible financing options for customers making automotive, recreational vehicle, Powersports and Marine purchases. Through a nationwide network of dealers, TD Auto Finance Canada offers auto financing products to customers with consistent, reliable and responsive service.
TD Wealth and TD Insurance
TD Waterhouse Discount Brokerage, a division of TD Waterhouse Canada Inc., provides global online investing, advice, private client services and asset management to a large and diverse institutional and retail client base.
TD Ameritrade provides investing and trading services for nearly six million client accounts that total more than $400 billion in assets, and custodial services for more than 4,000 independent registered investment advisors. On average, its clients place approximately 400,000 trades each day.
TD Insurance is the largest direct-response home and auto insurance groups and one of the top three personal home and auto insurance groups in Canada. Working in two sectors – general insurance and life and health insurance – TD Insurance helps protect clients through a wide range of products including credit protection, auto, home, health, life, and travel insurance. TD Insurance authorized products and services are available through more than 1,100 TD Canada Trust branches, online and over the phone.
U.S. Personal and Commercial Banking
TD Bank, America's Most Convenient Bank® is one of the 10 largest banks in the U.S., providing customers with a full range of financial products and services at more than 1,300 convenient locations and thousands of ATMs from Maine to Florida. TD Bank offers retail products and services to its clients in addition to investing services through TD Wealth.
TD Auto Finance U.S. is a competitive U.S. auto financing company focused on providing its customers with a personal, worry-free and easy automotive finance experience. Clients can depend on TD Auto Finance for stability and reliability; a financing partner that will always be there to meet the needs of its customers.
Wholesale Banking
TD Securities offers a wide range of capital market products and services to corporate, government and institutional clients who choose TD for its knowledge, innovation and experience. More than 3,500 employees in 13 offices around the world provide services in the key areas of finance including investment and corporate banking, capital markets, interest rate, currency and derivative products and commodities. Trading expertise and street-level market intelligence are employed to consistently deliver value for our clients.