Corporate governance practices
At-a-glance overview
We have a strong, independent Chairman with a clear leadership mandate in corporate governance.
The Board oversees management, considers and approves on a regular basis strategic alternatives and plans, and approves all major strategy and policy recommendations for TD Bank Group.
The Board is responsible for setting the tone for a culture of integrity and compliance throughout TD.
The Board, its committees, the committee Chairs and the Chairman of the Board operate under written charters setting out their responsibilities.
The Board renews itself with high calibre candidates with diverse skills and experience.
The Audit Committee of the Board, not management, is responsible for the relationship with the shareholders' auditor.
The Board of Directors and the management of TD are committed to leadership in corporate governance. We have designed our corporate governance policies and practices to be sure we are focused on our responsibilities to our shareholders and on creating long term shareholder value. We can assure you that TD's policies and practices meet or exceed applicable legal requirements. We continuously monitor all proposed new rules and modify our policies and practices to meet any additional requirements. An overview of our corporate governance structure is set out below.
Role of the chairman of the board
Brian Levitt is the non-executive Chairman of the Board at TD Bank Group. The Chairman of the Board is appointed annually by the non-management directors of the Board. He is independent and his role as Chairman of the Board is to facilitate the functioning of the Board independently of management and to maintain and enhance the quality of our corporate governance at TD. His key responsibilities are set out in the Charter of the Chairman of the Board which is available on our website. He also serves as Chair of the Corporate Governance Committee and is a member of the Human Resources Committee.
Mr. Levitt is currently non-executive co-chair of Osler, Hoskin & Harcourt LLP and has held various leadership positions at that firm since 2001. From 1991 to 2000, Mr. Levitt was the President and, subsequently, Chief Executive Officer of Imasco Limited, at the time one of Canada's largest consumer products and services companies, which included Canada Trust as one of its major holdings. In addition to being a director of Domtar Corporation and Talisman Energy Inc., Mr. Levitt serves as Chair of the Board of Trustees of the Montreal Museum of Fine Arts and Vice-Chair of the Board of the C.D. Howe Institute. Mr. Levitt served as Chairman of the Board of Domtar Inc. (predecessor of Domtar Corporation) from 2004 to 2007. He is the Chair of the current Judicial Compensation and Benefits Commission of Canada. Mr. Levitt has been appointed as chancellor of Bishop's University for a five-year term beginning June 1, 2013. Mr. Levitt has been an independent director on TD's Board since December 2008.
Overview of corporate governance structure at TD
This diagram is a simple overview of the corporate governance structure at TD.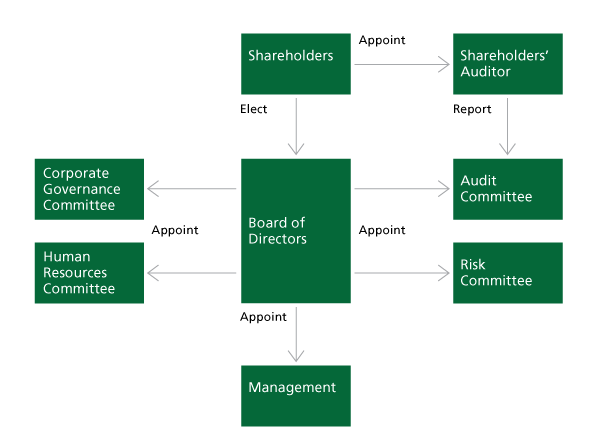 Directors' key responsibilities
In addition to having the requisite skills and experience, all directors must meet the qualifications for directors set out in the Position Description for Directors of TD. Under the Position Description, directors are expected to serve TD and the long-term interests of its shareholders by supervising the management of the business and affairs of TD. In doing so, the directors are expected to:
meet the highest ethical and fiduciary standards;
demonstrate independence from management;
be knowledgeable and inquisitive about the issues facing TD;
apply good sense and sound judgment to help make wise decisions; and
display commitment through attendance at, preparation for and participation in meetings.
Directors are expected to fulfill these objectives through accountability, integrity, independence, involvement, contribution and commitment to the bank and its shareholders.
Directors are also subject to the bank's Code of Conduct and Ethics.
Other places to find information about corporate governance at TD
Read our Chairman of the Board's Message to Shareholders.
Corporate Governance – Go to the Corporate Governance section of our website – www.td.com/governance – to find information on our corporate governance practices, including our Corporate Governance Guidelines, our Director Independence Policy, our Code of Conduct and Ethics, the Charters of our Board of Directors and each of its committees and a summary of significant differences between our governance practices and those required of U.S. domestic issuers listed on the New York Stock Exchange.
Proxy Circular – Read our Proxy Circular – in February 2014 it will be mailed to shareholders and available on our website.
Annual Meeting – Attend our Annual Meeting – April 3, 2014 in Calgary, Alberta– or watch the webcast through our website – www.td.com/investor.