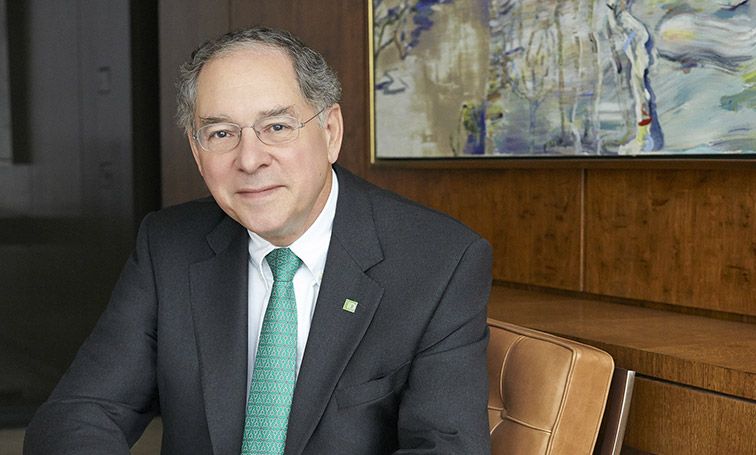 While 2013 presented a challenging environment, TD continued to deliver on its vision to be The Better Bank, thanks to strong leadership, a sound business model and a dedicated team of employees.
TD reported strong results in Canadian retail banking and Wealth in 2013, and hit an important milestone in the U.S. personal and commercial bank, delivering adjusted earnings of US$1.6 billion in that business. Achieving this goal was particularly impressive given regulatory changes that significantly impacted our U.S. personal banking revenues in recent years. For the bank overall, results were flat to last year, mainly due to challenges faced by the Insurance business. Nonetheless, TD was able to maintain a strong capital position and raised the dividend twice in 2013.
Continuity of leadership
In 2013, Ed Clark announced his decision to retire as Group President and CEO on November 1, 2014. Ed's leadership has been the driving force behind the distinctive TD culture, focused on providing legendary customer service and creating a unique and inclusive workplace, while delivering value to shareholders. We are pleased that he will remain on the board until the 2015 AGM.
Ed's announcement came in the context of an ongoing succession planning process overseen by the board. In addition to announcing that Bharat Masrani would serve as Chief Operating Officer beginning July 1, 2013 and will become Group President and CEO on November 1, 2014, we also announced a series of appointments that defined the senior executive team who will lead the bank going forward. We are confident that Bharat, along with the leadership team, will provide continuity of our strategy, culture and values.
Board composition
Former Chairman John Thompson retired from the board this year. We thank him for his significant contributions over his 24 years as director, including seven years as Chair. We are pleased to welcome David Kepler to TD's board. We expect to benefit from David's many years of experience with large technology systems and operational risk management, along with his broad senior executive background.
A priority on corporate governance
By continuing to place a high priority on robust corporate governance practices, TD ensures our shareholders are well served through the board's counsel on matters that include risk management, strategy and talent. TD continues to receive awards for corporate governance, including this year's Corporate Reporting Award of Excellence in the Corporate Governance category from the Chartered Professional Accountants Canada.
The view ahead
While the first-order effects of the financial crisis are behind us, its consequences linger to create a challenging and highly competitive operating environment. The board has confidence that TD's leadership, strategy and people will enable the bank to continue its high level of performance for all stakeholders. I'd like to recognize the efforts of TD's employees across the enterprise, whose great work is a key contributor to the bank's success. TD employees show remarkable commitment to our customers and communities, as demonstrated by their outstanding efforts to help the Alberta communities that experienced serious flooding in the summer of 2013.
On behalf of the board, I thank our shareholders for their ongoing support. We look forward to continuing to earn your trust in 2014.
Brian M. Levitt



Chairman of the Board