TD is Ready
TD operates in a world where change is happening faster, permeating deeper and with far-wider implications than ever before.
Digital technologies are reshaping business models and the competitive landscape, reinventing the customer experience and redefining relationships between financial institutions and their stakeholders.
In all of this, TD sees the opportunity to build deeper and more personal relationships with those we serve. We also see new and better ways to run our business, empower our colleagues and compete in the market. The bank of the future is full of promise and potential. And we are dedicating significant resources to create it. TD is not only responding to the change, we are leading it.
2017 marked another year of record reported earnings - $10.5 billion. We generated double digit growth in net income and Earnings Per Share. Return on Equity reached 14.9% - up more than 160 basis points from the previous year. At the same time, we improved our operating efficiency and remained well-capitalized with a CET1 ratio of 10.7%.
Our financial performance, in large part, reflects the competitive strengths embedded in our businesses and brand. Canadian Retail earnings of $6.5 billion represent an increase of 9% from last year. Our U.S. Retail business saw revenues rise by 10%, generating over $3 billion in net income. TD Securities had a strong year, with more than $1 billion in earnings.
These results allowed for a full-year dividend of $2.35. TD delivered above average Total Shareholder Return among our major five competitors over the short, medium, and long-term.
Ready for our customers
TD's strong performance is underpinned by our unwavering purpose to enrich the lives of those we serve, and a set of shared commitments; all part of the TD Framework, as outlined on page 6. This includes our promise to think like a customer. Delivering on this commitment helps us attract more people to bank with TD year after year. Today we have the privilege to serve more than 25 million customers across our footprint.
2017's results show we are ready to meet their evolving needs and rising expectations in an increasingly digital world. We now serve approximately 11.5 million active online and mobile customers. We continue to build on our leadership in mobile engagement, by adding value to each customer in real time, and in a way that is personalized and relevant to them.
As a customer-centric bank, we are guided by two commitments: to innovate with purpose and execute with speed. By doing so, we will seamlessly deliver personal, connected human experiences and advice to our customers and clients across multiple channels anywhere, anytime.
Earning the trust of each customer is something we do not take for granted. That is why we undertook a review of our sales practices following media stories that simply did not reflect our values. We did not find a widespread problem with people acting unethically in order to achieve sales goals. Still, we identified ways to improve processes, and have implemented a plan to do so.
Ready for our colleagues
More broadly, developing our colleagues remained a key commitment for us. All of our colleagues must be empowered to make meaningful contributions to our business and the customer experience we deliver. What's more, the capabilities we look for in our colleagues are evolving. We are recruiting engineers, computer scientists and even anthropologists to redesign how we run the Bank, build solutions and engage with the marketplace.
Harnessing the diverse talents and energies of our people is vital to our continued success. This year, significant resources were dedicated to developing a universal understanding of what leadership looks like at TD, and how each and every one of us can align our actions to the TD Framework. Our efforts have helped TD's highly engaged and motivated team fulfill our commitment to act like owners.
Ready for our communities
TD is also committed to helping communities grow and prosper in a changing world. For instance, in 2017, we issued one of the largest bank-issued green bonds, which will help fund infrastructure needed for the transition to a low carbon economy.
TD recently announced a set of initiatives to advance the low carbon economy of the future, including a target of $100 billion in low-carbon lending, financing, asset management and other programs by 2030.
We partnered with local organizations, and made more than $105 million of investments to contribute to enriching the lives of people and their neighbourhoods. TD understands many forces that will help fuel economic growth may also be disruptive. And so our focus is on creating a more inclusive future, where everyone has the opportunity to prosper.
Ready for the future
Looking ahead, the financial services industry will be further shaped by rapid innovation and disruption. We must be prepared for increasingly sophisticated cyber security and fraud risks, as well as evolving regulatory landscapes. Additionally, there are a host of geopolitical risks such as mounting trade protectionism that could undermine economic growth. At the same time, consumer expectations will continue to rise, just as competition from traditional and non-traditional players intensifies.
TD will continue to invest in its business, people and brand to deliver customer-centric experiences and help those we serve feel more confident about their financial future. We will leverage our size and scope as One TD to create even more value for our customers and clients. We will also maintain a strong risk culture, and focus on operational excellence. Last but not least, TD will foster our unique and inclusive culture to bring out the best in our colleagues.
TD is not only ready for the future; we are helping to create it. And that is exactly what our incredibly talented team of 85,000 colleagues will do on behalf of our customers, communities, and shareholders. We are grateful for your confidence in TD's future, and in our commitment to bring our purpose to life each and every day.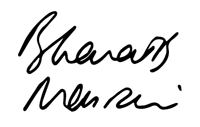 Bharat Masrani
Group President and Chief Executive Officer
Back to top
Top