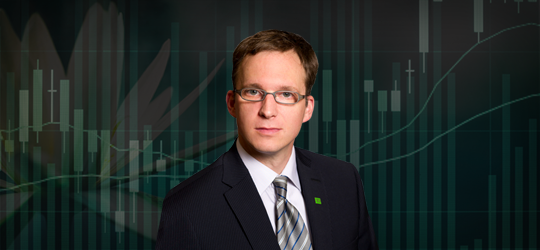 Blossoming just in time: Justin Flowerday on his new seat at the head table
---
Investor knowledge +
5 Minutes =
Current Insights
On April 1, David Sykes assumed the role of Chief Investment Officer, TD Asset Management Inc. (TDAM), and stepped away from Lead Portfolio Management duties. With this, Justin Flowerday, formerly the Managing Director and Head of Research, Fundamental Equities, TDAM, took over the role as Head of Public Equities, TDAM, and became a member of the TD Wealth Asset Allocation Committee.
The 411 on Justin
Justin started his career in 1999 and joined TDAM in 2004 making an immediate impact. Prior to becoming Head of Public Equities, Justin led TDAM's Global Equity Research efforts and was previously the Lead Manager of the North American Blue Chip Model. Additionally, he was once lead analyst for Global Technology, Media, Telecommunications, Industrials and Canadian Banks. His credentials are extensive and include a Bachelor of Commerce from McGill University, an MBA from the University of London and a CFA designation.
We caught up with Justin and chatted about his path to Head of Public Equities, his team, and current thoughts on the economy and investing.
When you started your career in the investment management industry, did you ever think you would be heading up public equities at TDAM?
In short - no. I was just thrilled to be hired by TDAM for the opportunity to have what I still believe is one of the best jobs in the world - covering a sector to learn about companies and industries and help generate ideas that will contribute alpha to portfolios. I started as an analyst covering Technology and I knew right away TDAM was the place to be as we have a culture and philosophy toward investing that gelled very well with my own philosophies (managed portfolios). I spent the next several years covering a few other sectors and mandates before the opportunity came along to build and scale a global equity research team and process.
Anyone who knows you has seen your passion for your team. Any thoughts on some of the recent team changes?
We've got a terrific team. It's been amazing to watch our people grow as investors and see the processes we've built contribute to the investment excellence we've generated for clients. While I'm really excited about my new role, one thing I've told myself is not to meddle too much with what we already have going for us. Our team operates at an incredibly high level and that is something that I don't want to jeopardize with unnecessary changes!
We have Ben Gossack and Damian Fernandes stepping into bigger roles, taking lead management responsibilities for some of the funds David managed. Vitali Mossounov and Monica Young are going to become co-heads of equity research. These are incredibly capable and talented individuals who will do a great job.
What keeps you up at night – investment wise that is!?
Aside from normal daily stresses, particularly over the past couple of years, I worry most about the fallout from the Russia-Ukraine conflict and the potential for an even greater escalation. It's not just the impact on capital markets over the next 12 months, but the potential for a longer-term influence over the next 3-5 years. If the situation is prolonged and escalates, the economic risk would be a reversal of the productivity, economic benefits and growth that globalization has generated for economies in recent years. That said, having worked through a couple substantial bear markets and a few recessions, I also have learned that today's companies and economies are quite resilient and agile with changing times.
What is the one event when you look back over the last 23 years that pops out as being one of the most important in your career to date?
Hands down, it's the Global Financial Crisis of 2008. It's not one particular day or month but more the series of events that really allowed me to adopt an important part of my philosophy, which is trying to understand all of the human and cognitive biases that go into our decision making. I spent many years researching this very deeply and it's allowed me to become a better investor and implement some really good checks and balances in our team to make sure that we're always aware of our biases. When I think about what we do really well, its making intelligent, logical decisions based on evidence. And I think part of that, for me, was understanding all the different biases and emotions that went into everybody's decisions back in 2008 and how they either destroyed value or created value, and how we could learn from it.
When not focusing on money management, how do you enjoy spending your free time?
Free time? That's a novel concept! With 3 children between the ages of 9 and 16, free time is a bit elusive. My kids keep me on my toes and extremely busy when I am not working. All 3 play basketball, so I spend an inordinate amount of time on weekends in gymnasiums across Ontario. But, when I do actually have time off to myself, my real Zen moments occur the odd summer morning when I am able to escape out to the middle of Baptiste Lake, Ontario, in my small little 18hp fishing boat jigging for pickerel. I also road cycle to keep me sane.
The information contained herein has been provided by TD Asset Management Inc. and is for information purposes only. The information has been drawn from sources believed to be reliable. The information does not provide financial, legal, tax or investment advice. Particular investment, tax, or trading strategies should be evaluated relative to each individual's objectives and risk tolerance.
Certain statements in this document may contain forward-looking statements ("FLS") that are predictive in nature and may include words such as "expects", "anticipates", "intends", "believes", "estimates" and similar forward-looking expressions or negative versions thereof. FLS are based on current expectations and projections about future general economic, political and relevant market factors, such as interest and foreign exchange rates, equity and capital markets, the general business environment, assuming no changes to tax or other laws or government regulation or catastrophic events. Expectations and projections about future events are inherently subject to risks and uncertainties, which may be unforeseeable. Such expectations and projections may be incorrect in the future. FLS are not guarantees of future performance. Actual events could differ materially from those expressed or implied in any FLS. A number of important factors including those factors set out above can contribute to these digressions. You should avoid placing any reliance on FLS.
TD Asset Management Inc. is a wholly-owned subsidiary of The Toronto-Dominion Bank.
®The TD logo and other TD trademarks are the property of The Toronto-Dominion Bank or its subsidiaries.
---
TDAM Connections at a Glance:
Back to top
Top