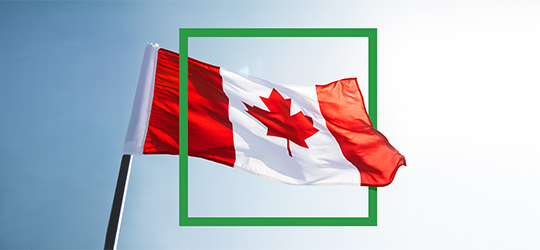 | | | |
| --- | --- | --- |
| Investor Knowledge + | | 5 Minutes = Confident Investing |

Every July 1st, Canada rings in another birthday. Across the country, crowds of Canadians spend a day in the sun then marvel at fireworks, many waving that signature red and white flag. This year, Canada turns 153 years old. We celebrate what it means to sew colourful thread after colourful thread into our rich tapestry. What it means to strive for unity and inclusivity. What it means to be Canadian.
As parts of the country open in stages, it's too soon to ditch physical distancing. In April, the federal government announced this year's Canada Day celebrations will take place online. In municipalities across Canada, citizens will be watching their screens instead of hitting their streets. Here are a few of many upcoming events:
Toronto will turn to community partners Harbourfront Centre, TOLive and the CN Tower for virtual tributes to frontline workers and neighbourhoods
Montreal will livestream artistic performances from its Olympic Stadium
Vancouver will host virtual performances, dance lessons, and a rodeo tribute
Calgary will offer a virtual concert featuring homegrown artists
Halifax will celebrate with virtual parades and parties
At TDAM Asset Management (TDAM), we've also adjusted to new ways of doing things. And it's shown us how quickly we adapt, how efficiently we work, and how committed we are to our clients.
Our investment management teams are researching, trading, redesigning, and constructing portfolios without missing a beat. All remotely. All securely. All at a very high level. They're making more phone calls and video calls to one another and the companies we invest in. They're continuously connecting with clients and guarding their investments.
Across TD, advisors are having meaningful conversations with Canadians about the future. They're inspiring confidence in female investors. They're encouraging legacy discussions within families. They're acknowledging clients' circumstances and really listening to their concerns. They're proven experts. And they're empathetic.
From thousands of employees in home offices, to hundreds of branches that are safely servicing clients, we get the job done. This isn't always an easy environment, but we navigate it with optimism. As long as we remain flexible and connected, we'll continue to support a range of financial capabilities and goals.
Like Canada, we are working towards a better, brighter day. No matter how quickly or wildly things change, there is always a reason to celebrate. And we look forward to that.
Happy Canada Day from TDAM!
---
The information contained herein has been provided by TD Asset Management Inc. and is for information purposes only. The information has been drawn from sources believed to be reliable. The information does not provide financial, legal, tax or investment advice. Particular investment, tax, or trading strategies should be evaluated relative to each individual's objectives and risk tolerance.


Certain statements in this document may contain forward-looking statements ("FLS") that are predictive in nature and may include words such as "expects", "anticipates", "intends", "believes", "estimates" and similar forward-looking expressions or negative versions thereof. FLS are based on current expectations and projections about future general economic, political and relevant market factors, such as interest and foreign exchange rates, equity and capital markets, the general business environment, assuming no changes to tax or other laws or government regulation or catastrophic events. Expectations and projections about future events are inherently subject to risks and uncertainties, which may be unforeseeable. Such expectations and projections may be incorrect in the future. FLS are not guarantees of future performance. Actual events could differ materially from those expressed or implied in any FLS. A number of important factors including those factors set out above can contribute to these digressions. You should avoid placing any reliance on FLS. 


TD Asset Management Inc. is a wholly-owned subsidiary of The Toronto-Dominion Bank. All trademarks are the property of their respective owners. 
®
The TD logo and other trademarks are the property of The Toronto-Dominion Bank or its subsidiaries
---
TDAM Connections at a Glance:
Back to top
Top