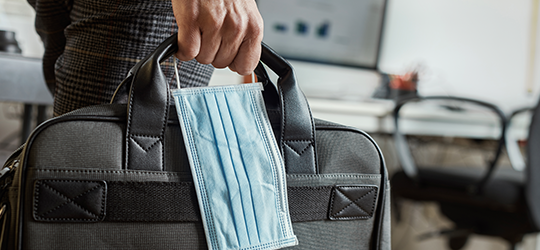 | | | |
| --- | --- | --- |
| Investor Knowledge + | | 5 Minutes = Confident Investing |

What's the difference between 2020 (so far) and one of the most intense roller-coasters? Many will tell you not much. In what feels like an eternity, we are only half way through the year, just waiting for our lives to go back to what was once considered "normal".
As an asset manager, a vital part of our business is keeping a level head during uncertain times and understanding markets. However, aside from the markets, the world today is a different place than it was at the start of 2020. While estimating the date that life returns to "normal" is difficult, it is safe to say that society will likely change in many ways permanently once this virus is under control.
Investing in a post-pandemic world
As investment professionals, it is crucial for us to look past the pain that many are feeling and ignore the constant news stories and social media posts. We aim to stay focused on decisions that will help ensure our clients investments weather this storm and participate in the forthcoming investment environment that we expect to emerge.
With this top of mind, the Fundamental Equity team at TD Asset Management recently wrote an article, the first in a two-part series, that discusses what the investing world may look like when the pandemic is behind us. The article focuses on some of the industries that stand to gain, and lose, when society and business return to "normal".
Where the bulls and bears may reside post-covid
We believe that quality and secular growth companies will be the winners coming out of the pandemic. Those with strong balance sheets, robust corporate governance and excellent business models should thrive. However, the pandemic has the potential to structurally change the attractiveness of a variety of industries - both positively and negatively. The first article we produced will discuss some of the top industries we feel will be impacted, including:
Technology (e-commerce, remote work arrangements, digital payments, leisure and entertainment),
Health Care (telemedicine, vaccines)
Industrial and general automation
Looking to stay a step ahead
Though we cannot predict the exact timing of an economic rebound, we believe that active management will play an important role in helping to protect client portfolios through this volatile period. Our Fundamental Equity team strives to ensure that our investment portfolios are weighted to industries and companies that are strategically positioned to capitalize on the potential reversal of current trends and take advantage of new trends and opportunities as they materialize in the post-pandemic world.
Our equity investment process focuses on identifying companies that have healthy balance sheets and a demonstrable ability to generate strong and growing free cash flows. We expect these companies to be industry leaders who are resilient in the face of uncertainty and can help minimize portfolio risk.
Stay tuned
Be sure to keep an eye out for part two of this series, where we will not only shed light on some more of the industries we see will benefit moving forward, but also explore some of the sectors that will be challenged as we look into the future.
Updated Resources:
---
The information contained herein has been provided by TD Asset Management Inc. and is for information purposes only. The information has been drawn from sources believed to be reliable. The information does not provide financial, legal, tax or investment advice. Particular investment, tax, or trading strategies should be evaluated relative to each individual's objectives and risk tolerance.


Certain statements in this document may contain forward-looking statements ("FLS") that are predictive in nature and may include words such as "expects", "anticipates", "intends", "believes", "estimates" and similar forward-looking expressions or negative versions thereof. FLS are based on current expectations and projections about future general economic, political and relevant market factors, such as interest and foreign exchange rates, equity and capital markets, the general business environment, assuming no changes to tax or other laws or government regulation or catastrophic events. Expectations and projections about future events are inherently subject to risks and uncertainties, which may be unforeseeable. Such expectations and projections may be incorrect in the future. FLS are not guarantees of future performance. Actual events could differ materially from those expressed or implied in any FLS. A number of important factors including those factors set out above can contribute to these digressions. You should avoid placing any reliance on FLS. 


All trademarks are the property of their respective owners. ®The TD logo and other trademarks are the property of The Toronto-Dominion Bank or its subsidiaries.
---
TDAM Connections at a Glance:
Back to top
Top