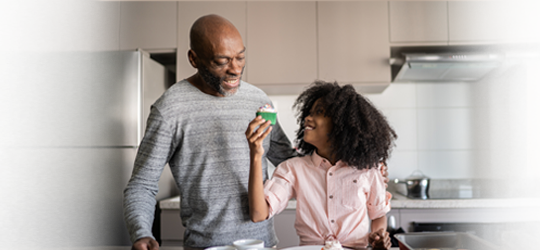 Celebrating Father's Day with our CIO
---
Investor Knowledge +
5 Minutes =
Confident Investing
It's that time of year when we celebrate fathers everywhere and thank them for all the support, skills and love they have given us over the years.
To mark the occasion, we sat down with David Sykes, CFA, Chief Investment Officer, TD Asset Management Inc. (TDAM) to see how he likes to spend Father's Day, how his investment teams are collaborating as offices open up further, and his thoughts on the current market volatility.
You were recently appointed as the new CIO of TDAM. While you've been with TDAM since 1999, and had previous leadership roles, what have your first few months as CIO been like?
After these first few months, I now understand the expression "drinking from a fire hose". In my old role I had 60 people on my team -- now I have 220, and just getting to know all the different teams, portfolios and systems has been a real challenge. But everyone I work with is great and they have all been incredibly helpful in the adjustment. The people I work with are what has kept me here since 1999.
As workforces increasingly return to the office, what have the benefits and challenges been for your investment teams?
I think the benefits are clear – we have a model at TDAM that involves mentoring, working together and sharing information. So, as we get back together even more, it's been great to see that people are talking, collaborating, and having fun. It's been really positive.
On the other side, we've been working from home for more than 2 years and there are adjustments. Commuting for a lot people has been a challenge, and I think many remain worried about COVID-19.
So, there are pros and cons, but I think we are easing into it. We are coming back three times a week and we'll see how it goes. Overall, I think there are big benefits to coming in a certain number of days a week. That said, our commitment to investors has always remained the same – to help them achieve their long-term financial goals, and we're proud of our broad, innovative, and diverse solution set.
With a rate hike cycle well under way and inflation at high levels, market volatility will be a hot topic for investors this summer. What are your predictions for the rest of 2022 and where do you see opportunity?
I believe that the market is struggling to find something called the "neutral rate of interest" -- that hypothetical, perfect rate of money where we don't have inflation, but we have full potential growth. And I think that number will be higher than where we are now. The short-term rate in Canada is 1.50% and, in the U.S., it's 1%. I think it's very fair to say that the markets are going to continue to deal with rate hikes and will probably settle somewhere between 2.50% and 3%. And I think between now and then, all eyes are going to be on inflation and earnings.
We do expect inflation to moderate in the back half of the year -- it's not going back to 2% -- but should probably cool off to 3% or 4%. Fingers crossed for a rally later this year. Really, we are waiting to see if inflation continues to be sticky at higher levels; if it is, we could be in for a bumpy landing.
Some investors may read the headlines and worry about the future. How do you separate the news from the noise?
It's important for an investor to remember their fundamental objective. And it's our job to act in the best interest of our clients. That means focusing on securities like fixed income, equity and alternatives to help generate dependable cash flow and return those cash flows to the owners. So, while it's in an incredibly difficult time, probably the most challenging in my career, if you can root yourself in quality cash flows, whether it's a high-quality corporate bond, a great equity, or an alternative product, I think you will come out the other side just fine.
As CIO and as a father, what advice do you have for the next generation of investors?
Take the time to fully appreciate all the various investing styles, products and trends. Determine what makes sense for you and once you set your course on what makes sense for you, don't deviate.
How do you like to celebrate Father's Day? Any plans for a family vacation this summer?
My children probably won't even recognize the day. They will probably just grunt at me in the morning. With any luck, I will get to sleep in a little bit and get out for some exercise.
As always, we are heading back to the east coast this summer and will spend a couple weeks on Prince Edward Island.
Happy Father's Day from TDAM!
The information contained herein has been provided by TD Asset Management Inc. and is for information purposes only. The information has been drawn from sources believed to be reliable. The information does not provide financial, legal, tax or investment advice. Particular investment, tax, or trading strategies should be evaluated relative to each individual's objectives and risk tolerance.
Certain statements in this document may contain forward-looking statements ("FLS") that are predictive in nature and may include words such as "expects", "anticipates", "intends", "believes", "estimates" and similar forward-looking expressions or negative versions thereof. FLS are based on current expectations and projections about future general economic, political and relevant market factors, such as interest and foreign exchange rates, equity and capital markets, the general business environment, assuming no changes to tax or other laws or government regulation or catastrophic events. Expectations and projections about future events are inherently subject to risks and uncertainties, which may be unforeseeable. Such expectations and projections may be incorrect in the future. FLS are not guarantees of future performance. Actual events could differ materially from those expressed or implied in any FLS. A number of important factors including those factors set out above can contribute to these digressions. You should avoid placing any reliance on FLS.
TD Asset Management Inc. is a wholly-owned subsidiary of The Toronto-Dominion Bank.
®The TD logo and other TD trademarks are the property of The Toronto-Dominion Bank or its subsidiaries.
---
TDAM Connections at a Glance:
Back to top
Top