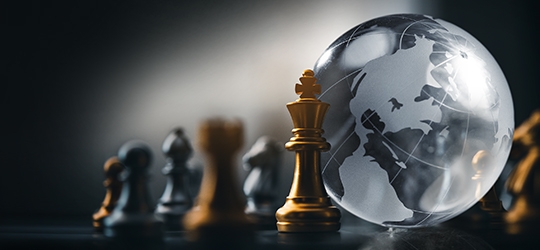 Investor knowledge +
5 Minutes =
Current Insights
2021 was a wild ride and did not disappoint investors—particularly those with an appetite for riskier assets. The performance of North American equity markets was impressive, was driven by the strength and resilience of the U.S. and Canadian economies.
Markets were buoyed by low interest rates and aggressive government support which benefited individuals and corporations, helping to ease some of the pressures experienced during the ongoing global health crisis. International markets were mixed, as optimism over the economic recovery wavered throughout much of the year.
2021 in review
The TD Wealth Asset Allocation Committee ("WAAC", "we", "our") remained bullish on equities throughout 2021 as record earnings growth, positive earnings surprises and revisions drove share prices higher. Corporate balance sheets remained resilient during the pandemic and record low yields and strong demand led to significant margin expansion, driving the profitability of companies higher in most sectors.
Fixed income was a different story. Our underweight fixed income positioning throughout the past year was reflective of low yields, negative real returns, and the expectation of higher yields. However, we saw opportunities within the high yield and corporate bond space to add incremental income.
Alternative assets like real estate, infrastructure, and private debt performed well in 2021, despite the challenges imposed by the pandemic. Industrial real estate for example was a positive contributor to returns, driven by the expansion of e-commerce and the increased need for warehousing and logistics to meet surging consumer demand.
That was our thinking in 2021. What about 2022? Will it look like 2021 for markets?
The Year Ahead 2022 - Global Economic Outlook
The WAAC has released its annual Global Economic Outlook: The Year Ahead 2022, providing balanced insights into some of the headwinds and opportunities facing markets in 2022 and beyond. This year, WAAC members were asked to share their thoughts on the current market environment, economic challenges looming ahead, and their investment outlook for key asset classes. Questions included:
Regarding inflation, are you in the transitory or permanent camp?
Are stock prices too high?
What do you see for interest rates going forward?
With markets at all-time highs, what are the chances of a crash in 2022?
What are your thoughts on the crypto craze?
Will the global real estate market cool down in 2022?
Our forward-looking view
We believe that global economic growth will continue into 2022, but unsurprisingly at a slower and more moderate pace than the remarkable recovery experienced over the previous twelve months. We maintain a modest risk-on perspective as transitional inflationary pressures, pandemic uncertainties, geopolitical instability, and the potential for central bank missteps could all cause disruptions to growth and increase market volatility against a backdrop of lower expected returns.
We expect global equities to deliver positive performance in 2022; however, gains are likely to moderate significantly from 2021 levels. At a very high level, we:
Maintain our core strategic preference for equities relative to fixed income. The protracted low-rate environment is likely to persist even as central bank policies shift from accommodation to stabilization
Maintain an overall modest underweight for fixed income, due to low real returns, believing fixed income exposure within portfolios remains important
Stress the importance of an allocation to alternative assets which should continue to be beneficial in managing portfolio volatility, providing some long-term inflation protection and attractive absolute returns
Overall, TD Asset Management Inc. remains committed to a disciplined investment process, that seeks assets offering attractive value and strong risk/return characteristics. As we navigate any future uncertainty, we maintain our conviction in structuring well diversified, multi-asset portfolios, that can best manage risk, and deliver solid results in all market conditions.
The information contained herein has been provided by TD Asset Management Inc. and is for information purposes only. The information has been drawn from sources believed to be reliable. The information does not provide financial, legal, tax or investment advice. Particular investment, tax, or trading strategies should be evaluated relative to each individual's objectives and risk tolerance.
Commissions, management fees and expenses all may be associated with investments in exchange- traded funds (ETFs). Please read the prospectus and ETF Facts before investing. ETFs are not guaranteed, their values change frequently, and past performance may not be repeated. ETF units are bought and sold at market price on a stock exchange and brokerage commissions will reduce returns. TD ETFs are managed by TD Asset Management Inc., a wholly-owned subsidiary of The Toronto- Dominion Bank.
The TD Wealth Asset Allocation Committee (WAAC) is comprised of a diverse group of TD investment professionals. The WAAC's mandate is to issue quarterly market outlooks which provide its concise view of the upcoming market situation for the next six to eighteen months. The WAAC's guidance is not a guarantee of future results and actual market events may differ materially from those set out expressly or by implication in the WAAC's quarterly market outlook. The WAAC market outlook is not a substitute for investment advice.
Certain statements in this document may contain forward-looking statements ("FLS") that are predictive in nature and may include words such as "expects", "anticipates", "intends", "believes", "estimates" and similar forward-looking expressions or negative versions thereof. FLS are based on current expectations and projections about future general economic, political and relevant market factors, such as interest and foreign exchange rates, equity and capital markets, the general business environment, assuming no changes to tax or other laws or government regulation or catastrophic events. Expectations and projections about future events are inherently subject to risks and uncertainties, which may be unforeseeable. Such expectations and projections may be incorrect in the future. FLS are not guarantees of future performance. Actual events could differ materially from those expressed or implied in any FLS. A number of important factors including those factors set out above can contribute to these digressions. You should avoid placing any reliance on FLS.
TD Asset Management Inc. is a wholly-owned subsidiary of The Toronto-Dominion Bank.
®The TD logo and other trademarks are the property of The Toronto-Dominion Bank or its subsidiaries.
Back to top
Top