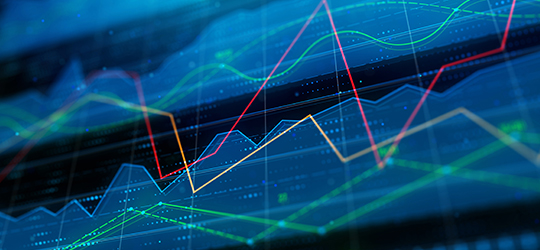 The Chefs of TDAMProducing fantastic dishes for hungry clients
---
Investor Knowledge +
5 Minutes =
New Thinking
What's important when it comes to creating a fantastic meal? The quality of the ingredients? The recipe? The skill of the cook/chef? The answer is all of them.
Quality ingredients are essential, using a good recipe is of prime importance and the skill of the person preparing the meal is vital. For a dish to be successful, all these factors have to be included and combined. While this sounds simple enough, many dishes are a bit daunting to make at home and are best made in restaurants with experienced chefs.
Like any good chef knows, there is no perfect recipe to follow. Each diner has their own tastes, preferences, and restrictions. However, an expert chef knows how to combine ingredients in a way that balances flavours and can adjust a dish to the ingredients available in the kitchen to satisfy different palates.
Why are we talking so much about cooking on an investment blog? Because the same dynamics are also at play when it comes to investing.
Currently, many of the key investment solutions and strategies offered by TD Asset Management Inc. (TDAM) encompass the same traits as a great meal. They offer the superior "ingredients" (investments and strategies) in the right proportions (recipe) and arguably the most vital aspect of these solutions, the portfolio managers or TDAM's "top chefs" who oversee and manage the entire "culinary" process, that are needed to help investors reach their goals. The combination of these three traits are particularly important against the backdrop of today's challenging investing environment and TDAM's new thinking around the evolution of the traditional portfolio.
Evolving the traditional portfolio - part 5 of 5
Over the past several months, The Asset Allocation Team has created a 5-part series of papers that addresses the evolution in our approach to asset allocation. Namely, how the 60/40 portfolio served investors well in the past, why evolution is needed now more than ever and the approach to asset allocation at TDAM today.
In our newly published fifth, and final paper, titled Today's approach to the traditional 60/40 portfolio, we combined all the potential components and strategies of a modern portfolio and discussed how TDAM has incorporated these ideas into our key solutions.
While the article is jammed with insightful information, here are a few key takeaways:
Balancing the flavour profile - Cross asset factors
In each of the earlier papers, we discussed how different sub-asset classes have their own unique exposures and correlations that need to be balanced appropriately for each asset class. One way to conceptualize exposures is by looking at factors, which are common exposures or drivers of asset class performance. Some potential factors that should be considered during the portfolio construction process include interest rate sensitivity, equity risk, currency and alpha. To achieve optimal diversification, factors need to be balanced. These are similar to the five basic flavors in cooking: sweet, sour, salty, bitter and umami. These flavors are present across food types and a chef's role is to balance them in a dish.
Regime-aware portfolio construction
As investment regimes change, the way a portfolio is constructed will need to change as well. In the 2020's, to date, we are experiencing much higher volatility in growth and inflation, signaling a new investment regime. Correlation between bonds and equities have flipped to positive as opposed to being negative. As we mentioned in the first two papers, this phenomenon erodes the diversification potential of a 60/40 portfolio, leaves investors susceptible to simultaneous drawdowns in both fixed income and equity and should prompt them to think beyond traditional asset classes.
The inclusion of non-traditional investments
Looking ahead, higher volatility in GDP growth and inflation may lead to shorter business cycles, more boom-and-bust periods and more challenging equity markets as a result. Greater equity market volatility means investors need more sources for diversification and to be prepared to transition to what may be a very different investment regime. We believe that this is best addressed by including alternative sources of return such as Public and Private Alternatives as outlined in article 4.
The future of the 60/40 portfolio
The world has changed and so has the return outlook for major asset classes and the relationship between them. New techniques and asset classes have enabled an evolution in portfolio construction with new and innovative solutions that are better aligned with client goals and help provide higher returns, with improved risk profiles.
We hope you enjoyed the 5-part series that discussed how to build better portfolios for balanced investors. All five articles (and many more) can be found within the Featured Insights page on the TDAM website.
The information contained herein has been provided by TD Asset Management Inc. and is for information purposes only. The information has been drawn from sources believed to be reliable. The information does not provide financial, legal, tax or investment advice. Particular investment, tax, or trading strategies should be evaluated relative to each individual's objectives and risk tolerance.
Certain statements in this document may contain forward-looking statements ("FLS") that are predictive in nature and may include words such as "expects", "anticipates", "intends", "believes", "estimates" and similar forward-looking expressions or negative versions thereof. FLS are based on current expectations and projections about future general economic, political and relevant market factors, such as interest and foreign exchange rates, equity and capital markets, the general business environment, assuming no changes to tax or other laws or government regulation or catastrophic events. Expectations and projections about future events are inherently subject to risks and uncertainties, which may be unforeseeable. Such expectations and projections may be incorrect in the future. FLS are not guarantees of future performance. Actual events could differ materially from those expressed or implied in any FLS. A number of important factors including those factors set out above can contribute to these digressions. You should avoid placing any reliance on FLS.
TD Asset Management Inc. is a wholly-owned subsidiary of The Toronto-Dominion Bank.
®The TD logo and other TD trademarks are the property of The Toronto-Dominion Bank or its subsidiaries.
---
TDAM Connections at a Glance:
Back to top
Top