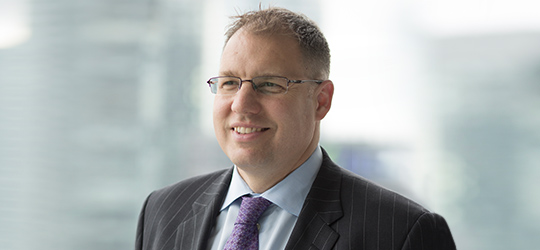 Back to All Articles
Up Close and Personal with David Sykes, Managing Director, Head of Public Equities, TDAM
---
| | | |
| --- | --- | --- |
| Investor Knowledge + | | 10 Minutes = Confident Investing |

David Sykes is a Portfolio Manager and leads the Public Equities team at TD Asset Management (TDAM), which he joined in 1999. His credentials are extensive and include a an MA in Politics, Philosophy and Economics from Oxford University, plus an MSc in International Relations from the London School of Economics and a CFA designation. David is lead Portfolio Manager of the TD North American Dividend Fund, TD U.S. Monthly Income Fund, and TD Tactical Monthly Income Fund, among others, and is a member of the TD Wealth Asset Allocation Committee.
On a late summer day in Toronto, TDAM popped into David's impressively clutter-free office on Bay Street to learn about what makes him tick and the potential market opportunities he sees for the rest of 2019 and 2020.
What inspired you to become a Portfolio Manager?
I got really interested in capital markets and equities in high school. There were questions that no one could seem to answer, such as "why does that stock trade at $50?" or "Why doesn't it trade at $30 or $70?" So I spent several years searching for these answers - and now I believe I have a better understanding.
What potential market opportunities do you see for the rest of this year and into 2020?
I think the opportunities on a short-term basis are essentially two sides of the same coin - and by this I mean that the world is slowing down in terms of growth. China has moved away from being a heavy investment capex (capital expenditure) economy to consumption based, and this is contributing to the slowdown. You also have demographic issues and structural problems in Europe contributing. 
And that's okay, but then you need to layer on trade war and tariffs. If that gets resolved in the next 2-5 months, then longer term I think you'll see significant upside for the markets. If it doesn't get resolved, however, and the trade war escalates, you're going to have this terrible situation where the global economy is slowing, combined with tariffs reducing trade and increasing prices. This will clearly not be good for equity markets and they could be off significantly. 
"So to me, the outlook all depends on this central issue of the U.S./China trade war and whether it gets resolved or not."
Rumour has it you were quite the football player during your university days. What lessons from the sport have you applied to the investment field?
Being a quarterback had its challenges but it taught me the value of a strong work ethic, and made me more competitive and determined. I also believe that my investment team shares the same vision and commitment.
What are your thoughts on the recent market volatility, ongoing geopolitical tensions, and the overall investment climate?
There is no question that the geopolitical environment is complicated. This is true whether it's the situation in North Korea, Hong Kong, China or Argentina and their debt problems, or the $17 trillion in negative yielding debt around the world. These problems are all real and the macro environment is really important. But at the end of the day, I want to make sure I have a process and philosophy in place that can best position our funds, regardless of the weather conditions, and sail through the storm. No matter what the world brings us, I want to be an equity owner of quality businesses for a long time.
Are there any potential risks on the horizon that the market isn't particularly focused on right now? If so, how do you and your investment team plan to counter these risks?
I believe the biggest risk is that the world needs income – and traditional sources aren't providing very good returns. So if you consider why the global economy is slowing, it's partly due to demographic shifts. The population is ageing, and people are retiring - but as these folks no longer work, there aren't enough new workers to replace them. This factor contributes to slowing growth, and interest rates stay lower for longer.  And yet, people still require income.
So I think one of the big risks is that we're underappreciating how long and how low interest rates can stay. The problem is that many people may need to fundamentally shift their mix away from fixed income to equity to help generate higher returns from dividend paying stocks. This essentially means taking on more risk, since investors may not be getting the returns they were once accustomed to – for example, from a traditional asset mix of 60% equities and 40% fixed income.
How do you determine which stocks make the grade for an investment portfolio?
Our process involves the hard work of multiple investment management teams and analysts, working together to help determine which companies best align with our investment strategy and philosophy. One thing we firmly believe in is that solid dividend paying companies can provide a layer of protection during challenging periods, and also deliver long term quality performance when times are good.
A few characteristics we focus on are: stocks with growing dividends as they can lead to outperformance, companies that pay dividends since they tend to be more established in their respective industries and have strong free cash flows, and, when markets fall, owning quality stocks which can pay off.
What causes are most dear to you?
I've been a big supporter of the United Way for a long time. Many people working in finance are very fortunate, but there are so many people in our communities who are much less fortunate. It's amazing how small donations made by a large number of people in a big organization can really make a difference.

" I also used to be a Big Brother, so I'm a big fan and supporter of the Big Brothers Big Sisters of Canada organization and all the amazing contributions they make in our communities. "
What's the best investment advice you've ever received?
Find a company that does something better than any other company, returns its capital to shareholders – and buy it. That's really the best advice I ever received.
Lastly, what are you reading these days – industry related or otherwise?
I recently completed reading Flash Boys by Michael Lewis, and I'm currently reading Treasure Island with my 8-year-old son.
---
Commissions, trailing commissions, management fees and expenses all may be associated with mutual fund investments. Please read the fund facts and prospectus, which contain detailed investment information, before investing. Mutual funds are not guaranteed or insured, their values change frequently and past performance may not be repeated. Mutual fund strategies and current holdings are subject to change.
The TD Wealth Asset Allocation Committee (WAAC) is comprised of a diverse group of TD investment professionals. The WAAC's mandate is to issue quarterly market outlooks which provide its concise view of the upcoming market situation for the next six to eighteen months. The WAAC's guidance is not a guarantee of future results and actual market events may differ materially from those set out expressly or by implication in the WAAC's quarterly market outlook. The WAAC market outlook is not a substitute for investment advice.
TD Mutual Funds and the TD Managed Assets Program portfolios are managed by TD Asset Management Inc., a wholly-owned subsidiary of The Toronto-Dominion Bank and are available through authorized dealers.® The TD logo and other trade-marks are the property of The Toronto-Dominion Bank.
---
TDAM Connections at a Glance:
Back to top
Top