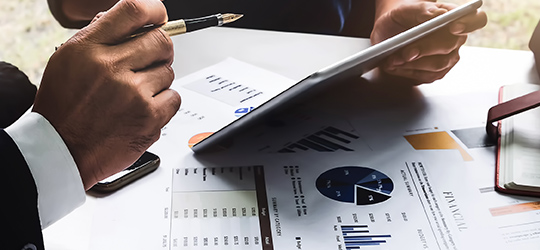 | | | |
| --- | --- | --- |
| Investor Knowledge + | | 5 Minutes = Confident Investing |

Did you know that TD Asset Management Inc. (TDAM) was among the first to introduce asset allocation portfolios? Diversification – the idea of not putting all your eggs in one basket – can work because asset classes have different qualities and tend to react to economic events in distinctive ways.
With a broad range of investments, chances are that when one component of a portfolio is underperforming, another may pick up the slack. When done right, an investor can get the benefits of diversification – capturing the market's upside while limiting the downside.
Asset allocation at TDAM
Asset allocation is all about choices. Where will you invest your money? And how much is appropriate to allocate to one asset class or geographic region versus others? We think it is best to leave these decisions to professionals. That's where TDAM comes in. Behind the scenes, our Portfolio Managers look for actionable insights on asset allocation –  ways of investing smartly in varying economic and market conditions.
Our Portfolio Managers draw on the wide-ranging research capabilities and expertise of various in-house investment specialists and analysts to help determine the best asset mix for their investment portfolios.
A key driver behind these "fund-of-fund" solutions (investments that hold a portfolio of several mutual funds) and their asset mix is the TD Wealth Asset Allocation Committee - known at TD as the "WAAC."
What's the WAAC?
The WAAC is made up of a diversified group of TD investment professionals with over 160 years of combined industry experience.  The committee meets monthly to share their views about what's happening in the markets, the broader economy, and important themes in the news.  At these meetings, the WAAC seeks to: 
Provide a concise view of the markets for the next six to eighteen months
Articulate broad market themes and identify potential risks on the horizon
Provide macroeconomic asset allocation direction for TDAM investment portfolios
Based on their outlook, committee members then decide whether adjustments should be made to their current asset allocation views.  This in turn drives the strategic composition of TDAM investment portfolios.
Here's a summary of the committee's current views as expressed at their most recent meeting in July 2019:
Overweight equities, and underweight fixed income 
Expect a "lower for longer" rate environment to continue with inflation low and central banks accommodative 
Corporate credit benefiting from strong free cash flow and low default risk 
Protracted conflict between China and the U.S. on issues of trade and technology leadership
Episodes of volatility may be driven by trade frictions and slowing global growth.
Get this month's WAAC Perspectives report
After each meeting, the WAAC Perspectives report is issued, providing the rationale for their allocation positioning with supporting commentary. You can 
access the report here
on the TDAM News & Insights webpage. On this page you can also find thoughtful, in-depth articles on broader market themes such as the
U.S.-China trade war and the Brexit affair.
---
Commissions, trailing commissions, management fees and expenses all may be associated with mutual fund investments. Please read the fund facts and prospectus, which contain detailed investment information, before investing. Mutual funds are not guaranteed or insured, their values change frequently and past performance may not be repeated. Mutual fund strategies and current holdings are subject to change.
The TD Wealth Asset Allocation Committee (WAAC) is comprised of a diverse group of TD investment professionals. The WAAC's mandate is to issue quarterly market outlooks which provide its concise view of the upcoming market situation for the next six to eighteen months. The WAAC's guidance is not a guarantee of future results and actual market events may differ materially from those set out expressly or by implication in the WAAC's quarterly market outlook. The WAAC market outlook is not a substitute for investment advice.
TD Mutual Funds and the TD Managed Assets Program portfolios are managed by TD Asset Management Inc., a wholly-owned subsidiary of The Toronto-Dominion Bank and are available through authorized dealers.® The TD logo and other trade-marks are the property of The Toronto-Dominion Bank.
---
TDAM Connections at a Glance:
Back to top
Top