Epoch Investment Partners, Inc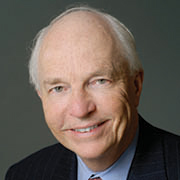 William W. Priest, CFA
CEO, Co - CIO & Portfolio Manager
Bill is Chief Executive Officer and Co-Chief Investment Officer of Epoch Investment Partners. He is a portfolio manager for Epoch's global equity investment strategies and leads the Investment Policy Group, a forum for analyzing broader secular and cyclical trends that Epoch believes will influence investment opportunities. Prior to co-founding Epoch in 2004 with David Pearl, Tim Taussig and Phil Clark, Bill was a Co-Managing Partner and portfolio manager at Steinberg Priest & Sloane Capital Management, LLC for three years. Before joining Steinberg Priest, he was a member of the Global Executive Committee of Credit Suisse Asset Management (CSAM), Chairman and Chief Executive Officer of Credit Suisse Asset Management Americas and CEO and portfolio manager of its predecessor firm BEA Associates, which he co-founded in 1972. During his 30 year tenure at BEA and CSAM, he developed the firm into a well-recognized investment manager with over $100 billion under management. Bill is the author of several published articles and papers on investing and finance, including the books, The Financial Reality of Pension Funding Under ERISA, Free Cash Flow and Shareholder Yield: New Priorities for the Global Investor, and the more recent Winning at Active Management: The Essential Roles of Culture, Philosophy and Technology (with co-authors Steven Bleiberg and Michael Welhoelter). The latter two, published by John Wiley & Sons, detail the underpinnings of our investment approach. He holds the Chartered Financial Analyst designation, is a former CPA and a graduate of Duke University and the University of Pennsylvania Wharton Graduate School of Business. He is a member of the Council on Foreign Relations.
WAYS TO INVEST WITH US
Find an Advisor
Talk to your Advisor or find a TD Advisor
Locate a Branch
Visit a Branch to talk to a Mutual Fund Representative Mutual Fund Representatives with TD Investment Services Inc. offer mutual funds at TD Canada Trust.
Invest Online
Trade with confidence using WebBroker.
Over the Phone
Got a question? Call EasyLine.
Back to top
Top