Active traders are passionate about trading. So are we.
You want to take charge of your trading? Good. We like the take-charge type.
Feature-rich Platforms
Advanced Dashboard and thinkorswim are two dynamic platforms available for active stock and option traders. Features include: streaming real-time data, conditional orders, and multi-leg options.
Exclusive Research and Education
These are the two pillars of smart trading: research to help filter the volume of market noise and uncover breaking ideas; education to build your repertoire of strategies with advanced concepts.
Fair, Straight-forward Pricing
Keep your costs down with our $7 active trader stock pricing, plus $1.25 per options contract, if you place 150 trades per quarter1. If you're less active, pay a flat stock commission of $9.991, plus $1.25 per options contract.
Reliable Technology. Always-on Support
Our trading platforms are as dependable as we are. Contact our trade desk 24 hours a day, seven days a week and an Investment Representative can help answer your questions.
1 $9.99 and $7.00 rate is for online and mobile trades only.
Advanced Dashboard – An all-in-one platform for U.S. and Canadian markets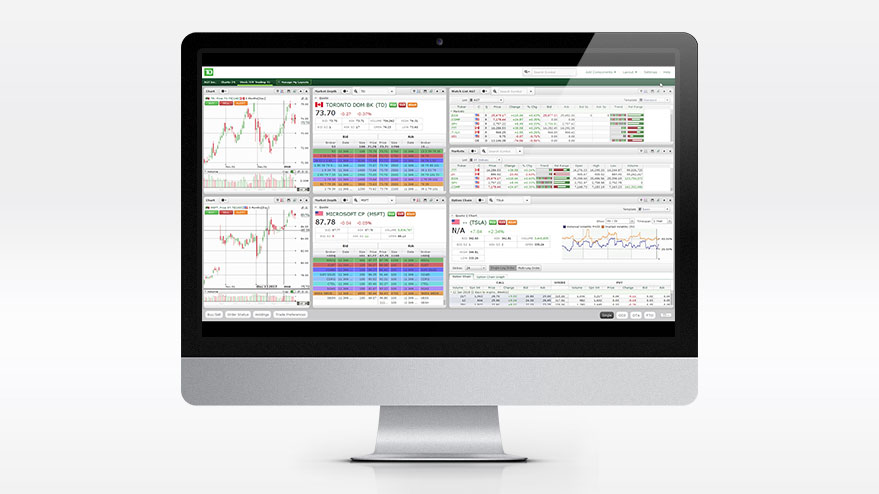 For traders who want advanced features to access Canadian and U.S. stocks and options, Advanced Dashboard is activated right from the WebBroker website.
Key features:
Real-time streaming market data

Customizable charting with technical studies, drawings, and comparisons to major indices, stocks, and more

Sophisticated analytics tools such as probability and earnings analytics

Advanced order types including conditional orders and multi-leg option strategies

Single-click order entry
thinkorswim – Get the ultimate advantage trading U.S. equities and options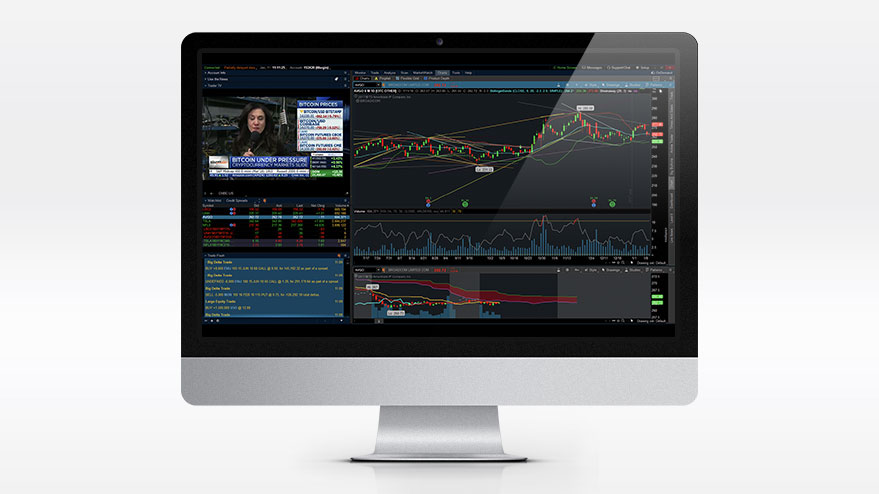 If you want to trade U.S. options and stocks, use thinkorswim, a professional-grade platform for high-performance traders. Powered by TD Ameritrade.
Key features:
Competitive Fees. No Compromises.
Our flat-fee commissions keep your costs down:
Active trader? Complete 150+ trades per quarter2 and get:

$7 plus $1.25 per contract1

Our competitive pricing for all clients. Everyone gets the same great rate:

$9.99 plus $1.25 per contract1
Real flat-fee pricing. Don't pay ECN or exchange fees.
All commissions are in the currency of the trade. Read more about TD Direct Investing's pricing.
1 $9.99 and $7.00 rate is for online and mobile trades only.
Resources for Active Traders
Our comprehensive resources mean every investment decision counts.
Get investing ideas from our suite of innovative research tools
Get actionable insights on market conditions from our MoneyTalk videos
Keep informed on important intraday events with Flash Alerts, from TD Securities' research analysts
Create alerts to be notified on your device about positions you hold or follow
Open an account
Whether or not you're new to self-directed investing or an experienced trader, we will go out of our way to welcome you as a client. Let's do this.
1 $9.99 and $7.00 rate is for online and mobile trades only.
2 Your household's quarterly trading activity will be reviewed on a monthly basis. If you are using WebBroker or Advanced Dashboard, the $7 Flat Fee Commission will be applied on or before the 4th business day of each month following three calendar months of qualifying trading activity. Clients trading on thinkorswim must notify TD Direct Investing of their eligibility to receive $7 Flat Fee Commissions. An eligible trade is defined as a commissionable filled equity or option order. Household accounts are defined as those TD Direct Investing accounts for clients living in the same household, with the same address. You must advise TD Direct Investing of these multiple account relationships. Trades executed through TD Direct Investing Global Trading are excluded for the purpose of evaluating your qualification for the $7 Flat Fee Commission Rate.
Apple, the Apple logo, MacBook Air, MacBook Pro, iMac and iPhone are trademarks of Apple Inc., registered in the U.S. and other countries. App Store is a service mark of Apple Inc., registered in the U.S. and other countries.