Skip to content
To Our Communities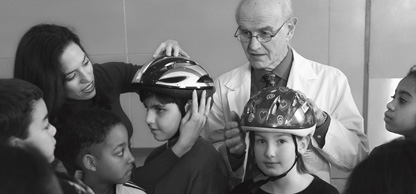 "Supporting the health of children is so important to their future, which is why we fund a program called TD Think First for Kids. This program gives teachers the tools to better educate students to 'think first' before engaging in unsafe behaviour. Ninety-five per cent of injuries are preventable, and every child we save is like saving the world."
Shawna Page (top left) Managing Director, TD Securities, with leading neurosurgeon Dr. Charles Tator (top right).

2004 HIGHLIGHTS:
EXCEEDED OUR COMMUNITY GIVING TARGET
$24.7 MILLION DONATED TO CHARITIES
$3.8 MILLION PROVIDED IN CHARITABLE SPONSORSHIPS
500,000+ BOOKS DONATED TO CHILDREN
$4.5+ MILLION INVESTED IN STUDENT SCHOLARSHIPS
Making contributions that have a lasting, positive impact - that's the driving force for TDBFG's community giving program.
Charities and volunteer organizations are playing an ever-increasing role in our communities, working tirelessly to address both immediate and longer-term needs. TDBFG recognizes that these groups need both funds and people power to meet the growing demand for their services. We supported more than 1,000 community causes in 2004 - with dollars, donated resources, and tens of thousands of employee volunteer hours - and our corporate donations equaled close to $25 million, making us one of the top corporate contributors in Canada. Once again we went beyond our annual community giving target by donating over 1% of our domestic, pre-tax profits to Canadian charitable and not-for-profit organizations last year.
We're proud that our donations can have a real, powerful impact, and we target most of our community investments and involvement into initiatives that build a brighter future for our society and its members, especially young people. For example, we support reading programs for kids to help boost children's literacy rates and impart in youth a love for learning. We invest in medical research and training programs to strengthen our country's health-care system. And we give to social service agencies so they can provide vital services and hope to those less fortunate.
There are numerous initiatives that TDBFG and our employees are involved with year-round, both in Canada and other countries where we operate, only a sample of which are highlighted in this section. While we invest in many worthy causes, we've made children's health, education and literacy, and the environment the three pillars of our charitable giving program. These areas are most relevant to our stakeholders and where we at TDBFG believe that we can make a real impact.
Read more – download the full To Our Communities section (PDF).
Complete Report
This online Report is a summary document.
For a complete version of our Corporate Responsibility Report, download the PDFs listed below.

The above documents are available in PDF format and require