Skip to content
To Our Customers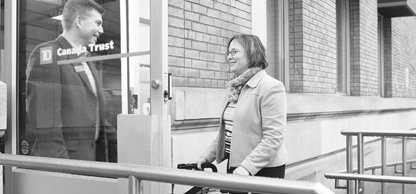 "My job is focused on identifying and ensuring we have accessible banking services for our customers. Accommodating all customers is something I feel strongly about, and it's a strategic priority at TDBFG, demonstrating the importance we place on ensuring a comfortable banking experience. Implementing design elements aimed at physical and/or technological accessibility produces a much more inclusive environment for the present and the future."
Martha Johnson
Manager, Accessibility

2004 HIGHLIGHTS:
INDUSTRY-LEADING BRANCH HOURS
TOP-RATED WEB BANKING AND BROKERAGE SERVICES
1,004 BRANCHES AND 2,462 ABMS
APPROXIMATELY 13 MILLION CUSTOMERS WORLDWIDE
540,000 SMALL BUSINESS CUSTOMERS
Our customers are why we exist, so paying serious attention to what counts to them is the overarching focus that propels our business.
Customer satisfaction. We're acutely aware it's one of our most cherished assets, so we expend every effort to be a leader in delivering it. Excelling in customer satisfaction means more than just being a financial services provider for the individuals, families, companies, and organizations that give us the privilege of having their business. Customers want us not only to help them manage their day-to-day money, but also to assist them in building their financial futures and make them feel comfortable dealing with us - secure, respected, important. We know this through continual research and surveying we do to learn about our customers' experiences with us and their evolving preferences.
This section highlights some of the services, policies, and practices we've established, including those introduced in 2004, to strengthen customer loyalty and ensure we always remain focused on satisfying the present and future needs of customers.
Read more – download the full To Our Customers section (PDF).
Complete Report
This online Report is a summary document.
For a complete version of our Corporate Responsibility Report, download the PDFs listed below.

The above documents are available in PDF format and require