Skip to content
To Our Employees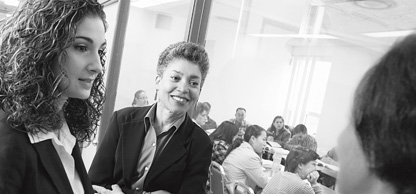 "I have two sons entering the workforce in a few years. It's important for me to work to achieve an environment in Canada where they can strive to reach their goals without arbitrary or systemic barriers. I'm proud that TDBFG is prepared to entertain a dialogue around these issues - because the discussion is not always easy or comfortable - and actively works at developing workplace values that celebrate diversity."
Josephine Grayson, Manager, Employee Diversity (centre) with colleague Andrea Louca, Diversity Officer

2004 HIGHLIGHTS:
$3.8 BILLION IN SALARIES AND BENEFITS
$50 MILLION INVESTED IN TRAINING AND DEVELOPMENT
NEW DIVERSITY STRATEGY AND TOOLS
EXCELLENT HEALTH AND SAFETY RECORD
CONTINUED RISE IN EMPLOYEE SATISFACTION SCORES
Employees are a critical part of TDBFG's competitive advantage. Present and future success as an organization can only be attained through the efforts of our people.
Employees matter. They attentively serve the financial needs of approximately 13 million customers, keep our global operations up and running smoothly, and make us a leading North American financial institution. That's why at TDBFG we strive to give current and potential employees many reasons to choose to work for us. We want to be known as a great place to work, a place to build rewarding careers. And we want to be recognized for how well we treat our employees. Our company has developed a comprehensive human resource management system with policies and practices centred on fostering diversity, respecting human rights, developing employees, and creating a safe, healthy, and comfortable workplace. In the end, we hope to build employee engagement and long-term relationships with our people.
Read more – download the full To Our Employees section (PDF).
Complete Report
This online Report is a summary document.
For a complete version of our Corporate Responsibility Report, download the PDFs listed below.

The above documents are available in PDF format and require