Skip to content
To Our Environment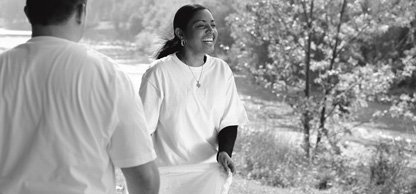 "We came together to make a big difference for the environment during the shoreline clean-up event. It's so important to everyone, especially the younger generation and their future, to have a cleaner and safer environment. It's a terrific feeling to know that you can give back to your community, no matter how small it is, because every bit counts."
Sherrida Nasir
Administrative Assistant, TDBFG

2004 HIGHLIGHTS:
NEW ENTERPRISE-WIDE ENVIRONMENTAL POLICY
ECO-EFFICIENCY PRACTICES
ENVIRONMENTAL DUE DILIGENCE IN LENDING PROCESSES
$2.7 MILLION TO SUPPORT COMMUNITY ENVIRONMENTAL PROJECTS
OVER 1,000 ENVIRONMENTAL PROJECTS FUNDED ACROSS CANADA
Taking action to protect our planet is a shared responsibility. We've stepped forward to incorporate environmental considerations in all we do. At TDBFG we demonstrate our respect for the environment in many ways: as a consumer of goods and natural resources; as a major lender; by sharing our resources as a charitable donor; and by engaging our communities and volunteers in environmental initiatives.
We recognize that addressing ecological concerns also matters deeply to our stakeholders. In a large organization, it is not easy to ensure that our activities are environmentally sensitive at all times, however, we continue to take meaningful steps including measures implemented in 2004 as discussed in this section to foster responsible business practices and ongoing improvement in our approach to caring for the environment.
Read more – download the full To Our Environment section (PDF).
Complete Report
This online Report is a summary document.
For a complete version of our Corporate Responsibility Report, download the PDFs listed below.

The above documents are available in PDF format and require