TD Wealth Management

Financial results of key product segments within TD Wealth Management
TD Mutual Funds is the fifth largest mutual fund manager in Canada with $29 billion in assets. In spite of the adverse markets, which hampered sales activity and AUM growth, revenues increased by 3% or $5 million, to $187 million in 2002 and our efficiency ratio improved six percentage points. Mutual fund market share declined during the fiscal year as the focus within the retail branch network, our primary distribution channel, was on integration related issues and implementing process improvements for most of the year. We believe we are well positioned to reverse this trend going forward.
TD Private Client Group includes trust services, private banking and Private Investment Counsel. Despite volume increases, revenues decreased by six percent or $10 million, to $156 million in 2002 primarily due to narrower interest margins and declines in fee-based businesses, primarily in Estates and Trusts, and Private Investment Counsel.
TD Asset Management is one of Canada's largest asset managers and is recognized as the largest quantitative manager in the country. Services provided include investment management to pension funds, corporations, institutions, endowments and foundations. Consistent with industry trends, these asset-based fee businesses experienced declining revenues in this environment. Revenues declined by 10% or $13 million to $112 million in 2002, while expenses decreased 6% or $4 million to $61 million.
TD Waterhouse Investment Advice provides full-service brokerage services to our retail customers throughout Canada. Although fiscal 2002 represented a challenging environment for our business we continued to grow our sales force and AUA, resulting in a revenue increase of 6% or $13 million to $238 million in 2002 compared with the prior year and an efficiency ratio improvement of seven percentage points compared with the prior year.
TD Waterhouse discount brokerage is a world leader in self-directed investing, serving customers both directly and through joint ventures in Canada, the United States, the United Kingdom, Australia, India, Singapore, Hong Kong and Luxembourg. As economic uncertainties dominated the landscape during fiscal 2002, trading volumes and margin loans were well below previous levels. These factors, combined with narrowing spreads, resulted in a 6% or $104 million decrease in revenue in 2002 to $1,512 million. Offsetting this decline was a continued focus on expense management which resulted in total expenses of $1,445 million, a 4% or $63 million decline from prior year.
TD Waterhouse Financial Planning continues to aggressively grow its front-line salesforce and invest in a comprehensive technology platform. As a result of this investment, revenues increased to $7 million and total operating expenses increased $13 million or 68% during the year.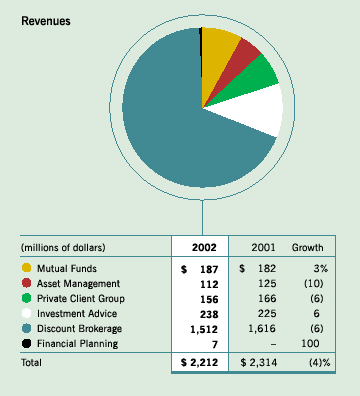 TD Wealth Management