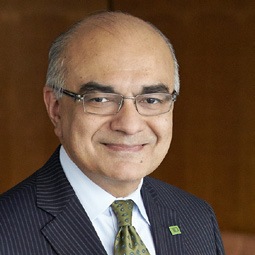 CEO's message
Bharat Masrani, Group President and Chief Executive Officer
TD delivered record results in 2018.
Earnings surpassed $11 billion - up approximately 8 percent from last year. Revenue growth was impressive. And, as a result, we achieved nearly 16 percent in Return on Equity.1
Each business contributed to our overall success.
Canadian Retail earnings were up 10 per cent - surpassing $7 billion for the first time. U.S. Retail earnings were over US$3 billion - up 28 percent.1 And once again TD Securities earned more than $1 billion.
We made substantial progress in areas of strategic importance. We devoted significant investments to our omni channel strategy, including building out our digital capabilities and end-to-end customer journeys, facilitating seamless customer experiences across the Bank. We made significant operational improvements, simplifying processes to make it easier and faster for customers to do business with us - and for our colleagues to serve them better. And we improved delivery of our most significant projects, adopting agile methodologies, and executing faster and with greater impact.
Our shareholders benefited from TD's performance. The Bank's dividend increased by 11 per cent on a full-year basis. We delivered above-average total shareholder return for the current fiscal year and lead our Canadian peers for Total Shareholder Return over the 3, 5 and 10-year periods.
So, it was a terrific year for TD and for our shareholders.
What sets TD apart
TD has proven that it can grow year after year on a consistent basis. I believe these factors help TD stand out in the marketplace.
Everything we do is centred on achieving our vision of being the Better Bank and fulfilling our purpose to enrich the lives of our customers, communities and colleagues.
Customers. We know, for example, our business is not built around a mortgage; it's built around a homeowner, who might also be a parent, an entrepreneur and an avid traveller. By knowing our customers better and understanding their needs more comprehensively, we are in a better position to bring the whole Bank to our customers and deliver real value for their entire needs.
Communities. Great people want to work for companies that do great things. In 2018, we launched TD Ready Commitment, our corporate citizenship platform, which is helping people and communities thrive in a changing world. This initiative is helping us forge deeper community connections as we invest and actively support a target of $1 billion in programs by 2030. We also continued to move forward with existing commitments, such as those focused on transitioning to the low-carbon economy of the future. These initiatives include a target of $100 billion in low-carbon lending, financing, asset management and other programs by 2030.
Colleagues. We encourage and support our people to be their best selves and do their best work. In 2018, we established a learning platform aligned with how people develop and grow to help ensure our people are armed with the know-how they need to succeed well into the future. We also promote the principles and practices of inclusion and diversity, so we can attract and retain the very best people. Being recognized as one of Canada's best Diversity Employers, and home to some of the most powerful women in U.S. banking according to American Banker, reflects the results we are all aiming for at TD.
Our proven business model enables us to deliver consistent earnings growth, underpinned by a strong risk culture.
As a top 10 bank in North America, we have diversification and scale, in a unique geographic footprint. We have a strong balance sheet, anchored by high quality assets and a rich base of customer deposits that serve as a stable source of low-cost funding. And we have a well-defined risk culture, grounded in our shared commitment to sustaining the trust of those we serve.
We are forward focused, shaping the future of banking by innovating, modernizing our operations, and investing in new capabilities.
Staying power does not mean staying the same. We are constantly looking for ways to adapt and reinvent ourselves while always keeping the customer at the centre of what we do. And while we have always been at the forefront of innovation, the proliferation of digital technologies provides us with opportunities to redefine how our customers see TD and the role we play in their lives. As further described in our Annual Report, we are proud that certain respected industry sources have ranked TD first in digital banking in Canada as well as having the number one banking app.
We will continue to innovate across all our channels, not just online and mobile but also in our contact centres and retail footprint where we are re-imagining and re-designing the banking experience. The aim is to provide our customers and clients with the support and services they need, anytime, anywhere. We are also investing in new tools and processes to enhance our capabilities and modernize and simplify our operations, so we can make things faster, safer and easier for both our customers and colleagues.
TD plans to build on our momentum in a number of ways. We will accelerate the development of digital capabilities that enable TD to deliver legendary customer experiences.
We will continue re-imagine the entire experience for key customer journeys, from research to advice to fulfillment and servicing. And we will continue to enhance our capabilities so that our business decisions and processes are informed by our customers' wants and needs.
We will not only focus on what we deliver - but also on how we deliver it. This includes optimizing and simplifying end-to-end business processes and delivering business outcomes more quickly. And, of course, we will continue to empower our colleagues, so that they have the skills to adapt, develop and succeed.
Helping our customers own their future
All our efforts will help customers gain control of their finances, fulfill their aspirations and look forward with confidence. We are proud of the role we play in helping them own their future.
The skill and passion of our more than 85,000 TD bankers around the globe was on full display in 2018. Together, we delivered for our customers, colleagues and communities while, at the same time, shaping the Better Bank of the future. We look forward to finding new and exciting ways to create value for all our key stakeholders, including our investors, in the new year and beyond.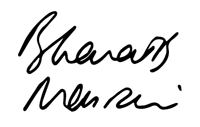 Bharat Masrani
Group President and Chief Executive Officer
1 Total adjusted earnings of $12 billion, up 15 percent from 2017. Total adjusted return on equity of 17 percent. U.S. Retail adjusted earnings of US$3.4 billion, up 33 percent from 2017. Refer to footnote 1 on page 14 of the complete annual report (available here) for information on how adjusted results are calculated.
Back to top
Top