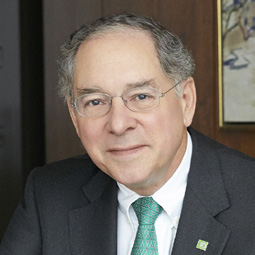 Chair's message
Brian M. Levitt, Chairman of the Board
TD demonstrated the strength of its business model by delivering a strong financial performance this year, with reported earnings of $11.3 billion. TD also continued to deliver shareholder value, raising its dividend by more than 11% on a full-year basis, repurchasing 20 million common shares and delivering above peer average Total Shareholder Return among its major competitors in fiscal 2018, and leading TSR for the last 3, 5 and 10 years. This year TD was once again named the safest bank in North America by Global Finance, a further testament to the soundness of its business model, culture and risk management practices.
Committed to keeping customers top of mind in everything it does, fostering a unique and inclusive employee culture, and working to be an environmental leader, the Bank recognizes that its success is directly tied to the success of the people and communities it serves. This orientation is reflected in the launch of TD Ready Commitment; a multi-year program to help open doors for a more inclusive tomorrow by targeting four critical areas. The sustainability practices embedded in the Bank's business model, resulted in TD being listed on the Dow Jones Sustainability World Index for the fifth consecutive year, and we remain the only Canadian bank in the index.
In keeping with the Bank's focus on customers and the Board's commitment to leadership in corporate governance, this year TD became the first bank to consolidate oversight of conduct risk policies and practices in a single Board committee.
On behalf of the Board I would like to thank our Group President and CEO, Bharat Masrani, and his leadership team, as well as each of our more than 85,000 employees for their continued hard work and commitment to providing legendary service to our customers every year.
I also want to thank our shareholders for their ongoing support and our customers for the opportunity to serve them every day. We look forward to continuing to earn and sustain your trust in 2019.


Brian M. Levitt
Chairman of the Board
---
The Board of Directors and its Committees
The Board of Directors as at November 28, 2018, its committees and key committees' responsibilities are listed below. Our Proxy Circular for the 2018 Annual Meeting will set out the director candidates proposed for election at the meeting and additional information about each candidate including education, other public Board memberships held in the past five years, areas of expertise, TD Committee membership, stock ownership, and attendance at Board and Committee meetings.
William E. Bennett
Corporate Director and former President and Chief Executive Officer, Draper & Kramer, Inc., Chicago, Illinois
Amy W. Brinkley
Consultant,
AWB Consulting, LLC,
Charlotte,
North Carolina
Brian C. Ferguson
Corporate Director and former President & Chief Executive Officer, Cenovus Energy Inc., Calgary, Alberta
Colleen A. Goggins
Corporate Director and retired Worldwide Chairman, Consumer Group, Johnson & Johnson, Princeton, New Jersey
Mary Jo Haddad
Corporate Director and retired President and Chief Executive Officer, The Hospital for Sick Children, Oakville, Ontario
Jean-René Halde
Corporate Director and retired President and Chief Executive Officer, Business Development Bank of Canada, Saint-Laurent, Québec
David E. Kepler
Corporate Director and retired Executive Vice President, The Dow Chemical Company, Sanford, Michigan
Brian M. Levitt
Chairman of the Board, The Toronto-Dominion Bank Lac Brome, Québec
Alan N. MacGibbon
Corporate Director and retired Managing Partner and Chief Executive of Deloitte LLP (Canada), Oakville, Ontario
Karen E. Maidment
Corporate Director and former Chief Financial and Administrative Officer, BMO Financial Group, Cambridge, Ontario
Bharat B. Masrani
Group President and Chief Executive Officer, The Toronto-Dominion Bank, Toronto, Ontario
Irene R. Miller
Chief Executive Officer, Akim, Inc., New York, New York
Nadir H. Mohamed
Corporate Director and former President and Chief Executive Officer, Rogers Communications Inc., Toronto, Ontario
Claude Mongeau
Corporate Director and former President and Chief Executive Officer, Canadian National Railway Company, Montréal, Québec
Committee
Members1
Key Responsibilities1
Corporate Governance Committee
Brian M. Levitt
(Chair)
William E. Bennett
Karen E. Maidment
Alan N. MacGibbon

Responsibility for corporate governance of TD:

Identify individuals qualified to become Board members and recommend to the Board the director nominees for the next annual meeting of shareholders and recommend candidates to fill vacancies on the Board that occur between meetings of the shareholders;
Develop and recommend to the Board a set of corporate governance principles, including a code of conduct and ethics, aimed at fostering a healthy governance culture at the Bank;
Satisfy itself that the Bank communicates effectively, both proactively and responsively, with its shareholders, other interested parties, and the public;
Oversee the Bank's strategy and reporting on corporate responsibility for environmental and social matters;
Act as the conduct review committee for the Bank and certain of its Canadian subsidiaries that are federally regulated financial institutions, including providing oversight of conduct risk; and
Oversee the evaluation of the Board and Committees.

Human Resources Committee
Karen E. Maidment
(Chair)
Amy W. Brinkley
Mary Jo Haddad
Brian M. Levitt
Nadir H. Mohamed

Responsibility for management's performance evaluation, compensation and succession planning:

Discharge, and assist the Board in discharging, the responsibility of the Board relating to leadership, human resource planning and compensation, as set out in this Committee's charter;
Set performance objectives for the Chief Executive Officer (CEO), which encourage the Bank's long-term financial success and regularly measure the CEO's performance against these objectives;
Recommend compensation for the CEO to the Board for approval, and determine compensation for certain senior officers;
Monitor the Bank's compensation strategy, plans, policies, and practices for alignment to the Financial Stability Board Principles for Sound Compensation Practices and Implementation Standards, including the appropriate consideration of risk;
Oversee a robust talent planning and development process, including review and approval of the succession plans for the senior officer positions and heads of control functions;
Review and recommend the CEO succession plan to the Board of Directors for approval;
Produce a report on compensation which is published in the Bank's annual proxy circular, and review, as appropriate, any other related major public disclosures concerning compensation; and
Oversee strategy, design and management of the Bank's employee pension, retirement savings, and benefit plans.

Risk Committee
William E. Bennett
(Chair)
Amy W. Brinkley
Colleen A. Goggins
David E. Kepler
Alan N. MacGibbon
Karen E. Maidment

Supervising the management of risk of the Bank:

Approve the Enterprise Risk Framework (ERF) and related risk category frameworks and policies that establish the appropriate approval levels for decisions and other measures to manage risk to which the Bank is exposed;
Review and recommend the Bank's Enterprise Risk Appetite Statement and related measures for approval by the Board and oversee the Bank's major risks as set out in the ERF;
Review the Bank's risk profile against Risk Appetite measures; and
Provide a forum for "big-picture" analysis of an enterprise view of risk, including considering trends, and current and emerging risks.

Audit Committee
Alan N. MacGibbon2
(Chair)
William E. Bennett2
Brian C. Ferguson2
Jean-René Halde
Irene R. Miller2
Claude Mongeau2

Supervising the quality and integrity of TD's financial reporting:

Oversee reliable, accurate, and clear financial reporting to shareholders;
Oversee the effectiveness of internal controls, including internal controls over financial reporting;
Directly responsible for the selection, compensation, retention and oversight of the work of the shareholders' auditor – the shareholders' auditor reports directly to this Committee;
Receive reports from the shareholders' auditor, Chief Financial Officer, Chief Auditor, Chief Compliance Officer, Chief Anti-Money Laundering Officer, and Bank Secrecy Act Officer, and evaluate the effectiveness and independence of each;
Oversee the establishment and maintenance of policies and programs reasonably designed to achieve and maintain the Bank's compliance with the laws and regulations that apply to it; and
Act as the Audit Committee for certain subsidiaries of the Bank that are federally regulated financial institutions.

Additional information relating to the responsibilities of the Audit Committee in respect of the appointment and oversight of the shareholder's independent external auditor is included in the Bank's 2018 Annual Information Form.
1 As at November 28, 2018
2 Designated Audit Committee Financial Expert
Back to top
Top