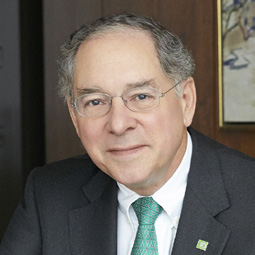 Chair of the Board's Message
In 2019, TD demonstrated the strength of its business model by posting strong financial results while delivering on its purpose – to enrich the lives of its customers, communities and colleagues.
The Bank reported earnings of $11.7 billion. The common share dividend was increased by 11%, 30 million shares were repurchased and we continued to deliver above-peer average Total Shareholder Return for the last three-, five- and ten-years.
This year our Annual Report also includes a new section discussing the Bank's environmental, social and governance (ESG) practices, illustrating our commitment to sustainability and community involvement. As a purpose-driven organization, we are making a meaningful and long-lasting impact in the communities we serve.
In 2019, TD advanced a number of initiatives to prepare the Bank for the future. We were named the most innovative digital bank in North America by Global Finance and introduced new capabilities in both Canada and the U.S. to further elevate the customer experience. Combined with ongoing investments in branches and stores, TD is delivering for our customers across every channel. The Bank also continued to make important investments in our colleagues, introducing new training and development programs, remaining focused on diversity and inclusion, and enhancing colleague engagement across the Bank.
On behalf of the Board, I would like to thank our Group President and CEO, Bharat Masrani, and his leadership team, as well as each of our more than 85,000 colleagues for their hard work and dedication throughout the year.
I also want to thank our shareholders for their ongoing support and our customers for the opportunity to serve them. We look forward to continuing to earn and sustain your trust in 2020.


Brian M. Levitt
Chair of the Board
---
The Board of Directors and its Committees
The Board of Directors as at December 4, 2019, its committees and key committees' responsibilities are listed below. Our Proxy Circular for the 2020 Annual Meeting will set out the director candidates proposed for election at the meeting and additional information about each candidate including education, other public Board memberships held in the past five years, areas of expertise, TD Committee membership, stock ownership, and attendance at Board and Committee meetings.
William E. Bennett
Corporate Director and former President and Chief Executive Officer,
Draper & Kramer, Inc.,
Chicago, Illinois
Amy W. Brinkley
Consultant,
AWB Consulting, LLC,
Charlotte,
North Carolina
Brian C. Ferguson
Corporate Director and former President and Chief Executive Officer,
Cenovus Energy Inc.,
Calgary, Alberta
Colleen A. Goggins
Corporate Director and retired Worldwide Chairman,
Consumer Group,
Johnson & Johnson,
Princeton, New Jersey
Mary Jo Haddad
Corporate Director and retired President and Chief Executive Officer,
The Hospital for Sick Children,
Oakville, Ontario
Jean-René Halde
Corporate Director and retired President and Chief Executive Officer,
Business Development Bank of Canada,
Saint-Laurent, Québec
David E. Kepler
Corporate Director and retired Executive Vice President,
The Dow Chemical Company,
Sanford, Michigan
Brian M. Levitt
Chair of the Board,
The Toronto-Dominion Bank,
Kingston, Ontario
Alan N. MacGibbon
Corporate Director and retired Managing Partner and Chief Executive of Deloitte LLP (Canada),
Oakville, Ontario
Karen E. Maidment
Corporate Director and former Chief Financial and Administrative Officer,
BMO Financial Group,
Cambridge, Ontario
Bharat B. Masrani
Group President and Chief Executive Officer,
The Toronto-Dominion Bank,
Toronto, Ontario
Irene R. Miller
Chief Executive Officer,
Akim, Inc.,
New York, New York
Nadir H. Mohamed
Corporate Director and former President and Chief Executive Officer,
Rogers Communications Inc.,
Toronto, Ontario
Claude Mongeau
Corporate Director and former President and Chief Executive Officer,
Canadian National Railway Company,
Montréal, Québec
Committees1
Members
Corporate Governance Committee
Responsibility for corporate governance of the Bank
Brian M. Levitt (Chair)
William E. Bennett
Karen E. Maidment
Alan N. MacGibbon
Human Resources Committee
Responsibility for management's performance evaluation, compensation and succession planning
Karen E. Maidment (Chair)
Amy W. Brinkley
Mary Jo Haddad
Brian M. Levitt
Nadir H. Mohamed
Risk Committee
Supervising the management of risk of the Bank
William E. Bennett (Chair)
Amy W. Brinkley
Colleen A. Goggins
David E. Kepler
Alan N. MacGibbon
Karen E. Maidment
Audit Committee
Supervising the quality and integrity of the Bank's financial reporting and compliance requirements
Alan N. MacGibbon (Chair)
William E. Bennett
Brian C. Ferguson
Jean-René Halde
Irene R. Miller
Claude Mongeau
1 A full list of Committee Key Responsibilities is included on page 220
back to top