Forward-focused
Shape the future of banking in the digital age
Our goal is always to find a better way, adapting and re-inventing ourselves to add value for our customers. We're focused on re-imagining the banking experience and driving engagement across our digital and physical platforms to meet our customers' needs and expectations.
---
We are re-imagining the banking experience
---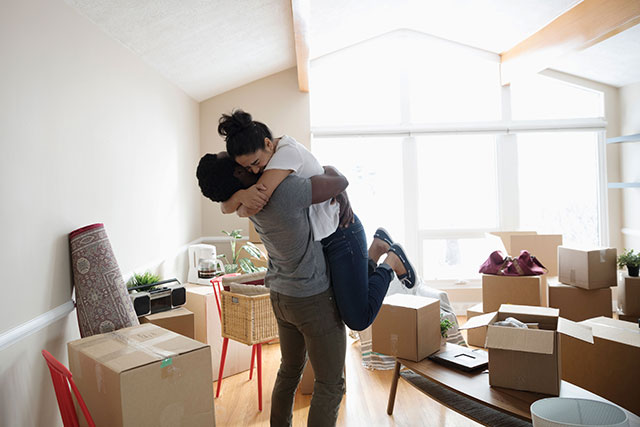 Through the Homeowners' Journey we are building deeper, more personalized relationships with our customers.
Whether it's homeownership, a short- term savings goal, or building for a secure retirement, our mission is to deliver elevated advice and build confidence, no matter what channel our customers choose along their journey.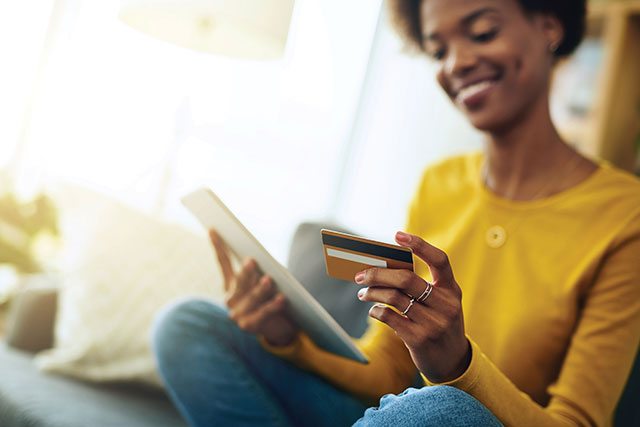 A first-in-Canada credit card control feature allows TD consumer credit card-holders to temporarily block their credit cards from any international in-person points-of-sale charges through our mobile banking app. Customers can also temporarily lock and unlock their credit card if they can't immediately locate it.
Leveraging the power of artificial intelligence
TD will leverage the powerful predictive capabilities of Layer 6's artificial intelligence systems to empower customers with personalized experiences. By combining the power of artificial intelligence with our mobile app, we can help predict customers' needs to provide the right information at the right time – helping customers feel more confident about their financial decisions.
We launched the Responsible AI in Financial Services report that combined insights from a survey of Canadians and an expert roundtable to continue exploring the opportunities and risks of artificial intelligence, and how companies adopting it can use it responsibly.
---
We are modernizing our operations
---
We are modernizing, optimizing, and simplifying our operations to transform how we do business. We converted Small Business online banking users to the new U.S. digital platform and mobile app, adding new functionality such as single sign-on for Consumer and Small Business accounts.
We are empowering customers to open deposit accounts and apply for personal loans when and where they want using our online tool, EasyApply, simplifying the experience and significantly saving time. Through EasyApply, TD was the first big five bank in Canada to offer customers an end-to-end loan application.
Developing a culture of innovationThrough our new employee ideation platform, iD8, we are changing the way ideas are realized at the Bank. We understand that there's no better source of impactful ideas than the ones that come from our colleagues, so we've built a platform that provides a place to share ideas, big and small. Since its launch in February 2019, iD8 has seen:
2,000,000+
customers benefited
22,000+
colleagues benefited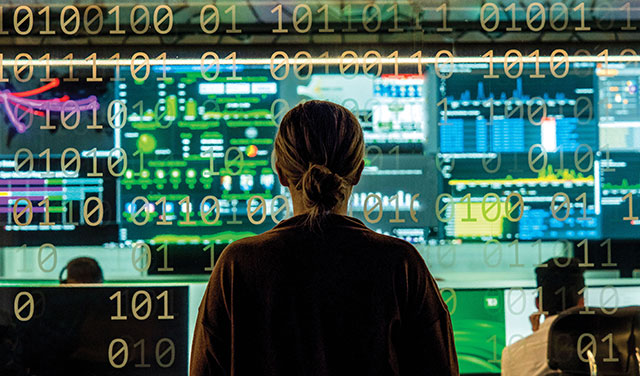 Our commitment to investing in cybersecurity
Our new TD Fusion Centre in Toronto is an agile workspace that brings together colleagues from critical functions across the Bank to increase our effectiveness in protecting and responding to potential cyber threats. The TD Fusion Centre is another step forward in the Bank's ongoing efforts to deliver meaningful innovations that help protect assets and safeguard customers' privacy, security and trust.
The trust our customers place in us is central to our innovation strategy. No matter which set of technologies we're exploring as we look to create new and better experiences for our customers, our efforts will be informed by our ongoing commitment to maintaining the highest regard for customer privacy, data security, and financial stability.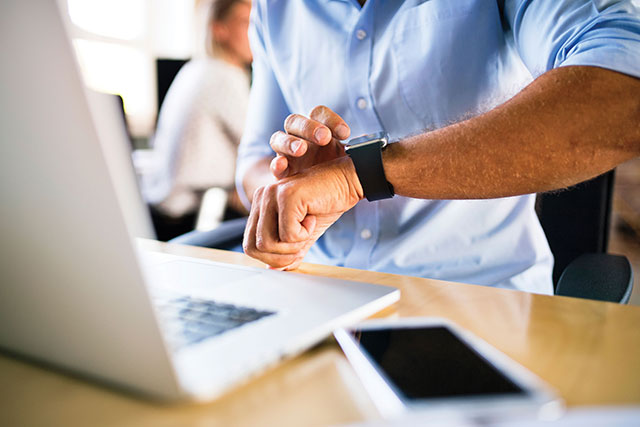 Putting customers in the driver's seat
The new TD Wheels mobile app elevates the car-buying experience for Canadians by offering a personalized digital experience that gives them a view of their car-buying options, including allowing users to get pre-qualification for vehicle financing.
---
Delivering engaging mobile solutions for customers
TD is consistently ranked #1 among top retail banking apps in Canada, according to App Annie, Silicon Valley-based mobile data and analytics firm.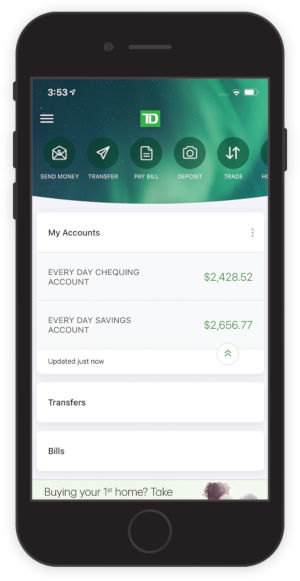 ---
Delivering legendary, connected and personalized advice for today and tomorrow. Across TD we continue to invest in personalized customer service while strengthening our omni-channel strategy to allow our customers to move seamlessly across channels.
Putting our customers first
In the U.S., our customer-centric "Unexpectedly Human" approach showcases our commitment to making an impact in our local communities and demonstrates our focus on how we do things differently. From the extra conveniences we offer our customers, to the ways we engage with them, or the improvements to our distribution networks and platforms. Each of these investments is making banking faster and simpler for our customers across every channel.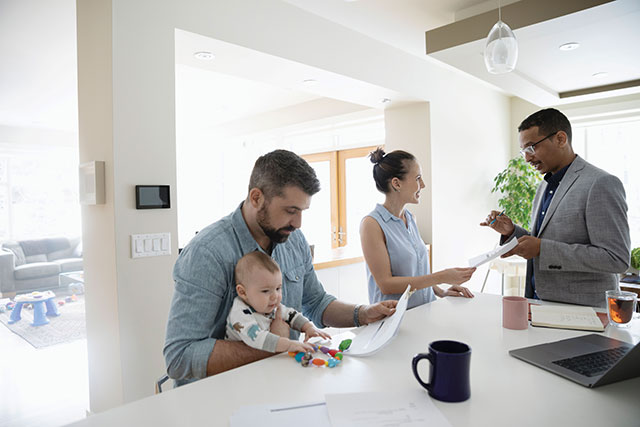 Being Future Ready
We are committed to providing our customers with the best trusted advice to guide them through life's important financial decisions. This is what the Canadian Personal Bank's Future Ready strategy is all about.
It's about providing our customers with confidence that is deeply rooted in our understanding of their evolving needs, offering personalized advice to help them reach their financial goals, and making sure colleagues have the time they need to elevate the advice they give.
Focusing on what really matters
We're investing in our branch colleagues and their training, coaching and accreditation
We're hiring more front-line colleagues and have created new specialized roles like Senior Financial Advisors
We've hired more than 750 customer advisors in the branch, and we continue to add new mobile mortgage specialists
Just one year into our journey – we're seeing terrific results. Future Ready has:
Eliminated approximately 2 million annual emails and 1 million administrative activities
Delivered approximately 23 more hours of capacity per branch per week
Our Legendary Experience Index – how we track our customers' experiences with TD – has shown us delivering record customer satisfaction results
As our journey continues into 2020, TD is doing more to help our colleagues deepen relationships with our customers and deliver legendary, connected and personalized omni-channel experiences. By pairing exceptional in-person experiences with seamless digital options, we continue to invest in our people, our branches and new tools for our customers.
Elevating the personalized email experience for customers
Leveraging a platform to further personalize customer emails in real time, when they are opened – based on location, time, weather and other contextual data – allows us to create compelling emails that increase engagement. This has improved engagement by over 25%.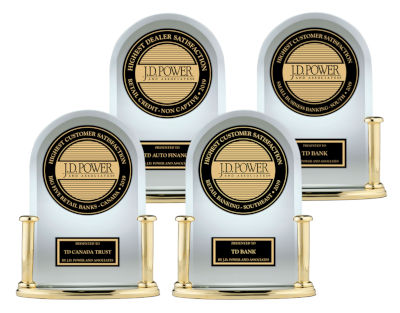 TD is proud to have won four J.D. Power awards in 2019. These wins are a testament to the value of our omni-channel approach and the power of the One TD model.
TD Canada Trust won the award for highest customer satisfaction levels among the big five banks 1
TD Auto Finance Canada ranked highest in dealer satisfaction among non-captive retail lenders 2
TD Bank received the highest customer satisfaction with retail banking in the Southeast 3
TD Bank ranked highest in small business banking in the South Region 4
1 TD Canada Trust won the award for highest customer satisfaction levels among the big five banks, ranking highest in overall satisfaction, convenience, and channel activities.
2 TD Auto Finance Canada ranked highest in dealer satisfaction among non-captive retail lenders for the second year in a row.
3 TD Bank, America's Most Convenient Bank®, received the highest customer satisfaction with retail banking in the Southeast, according to the J.D. Power 2019 U.S. Retail Banking Study.
4 TD Bank ranked "Highest in Small Business Banking in the South Region" according to the J.D. Power Small Business Banking Satisfaction Study.
back to top