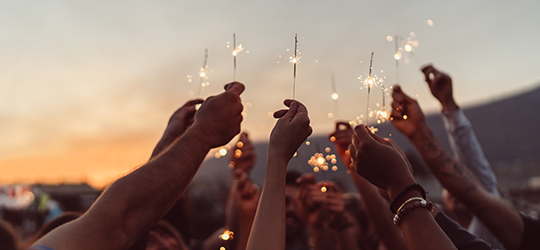 Canada Day 2022 - With Glowing Hearts
---
Canada Day 2022 marks the 155th anniversary of our country, and is an opportunity to celebrate the shared values that unite the nation along with the diversity that collectively strengthens us. After an incredibly challenging two years, people across the country will finally be spending Canada Day together with friends and loved ones, and reflect on our experiences.
With everything going on in the world around us, Canada Day is a time to pause and appreciate our community of neighbours from coast to coast as we consider what it truly means to be Canadian. From Vancouver, B.C. to St. John's, Newfoundland and Labrador, we are all part of a vast and intricate mosaic. Let's celebrate that together.
This is also a time to recognize the heritage, history, and culture of Indigenous Peoples. At TD, we recognize there is more work to be done on our collective journey towards Truth and Reconciliation. That's why we're applying our business, people and philanthropy to help create a more inclusive and sustainable tomorrow for Indigenous Peoples across Canada. We believe this is a key step forward on our journey.
The past two years have shown just how quickly our teams at TD Asset Management Inc. (TDAM) have adjusted to an ever-evolving landscape. Whether it's quickly pivoting to video calls with our clients, portfolio managers working hard to anticipate and respond to major world events, offices reopening responsibly and conscientiously, and everything in between, our dedication to investors is at the heart of everything we do. We are committed to navigating the post-pandemic era with the same optimism and commitment to excellence that you've come to expect from TDAM.
Like all of Canada, we are always working toward a better, brighter day. No matter how quickly or unpredictably things might change, there is always a reason to celebrate. And we look forward to doing that on July 1.
Happy Canada Day from TDAM!
The information contained herein has been provided by TD Asset Management Inc. and is for information purposes only. The information has been drawn from sources believed to be reliable. The information does not provide financial, legal, tax or investment advice. Particular investment, tax, or trading strategies should be evaluated relative to each individual's objectives and risk tolerance.
Certain statements in this document may contain forward-looking statements ("FLS") that are predictive in nature and may include words such as "expects", "anticipates", "intends", "believes", "estimates" and similar forward-looking expressions or negative versions thereof. FLS are based on current expectations and projections about future general economic, political and relevant market factors, such as interest and foreign exchange rates, equity and capital markets, the general business environment, assuming no changes to tax or other laws or government regulation or catastrophic events. Expectations and projections about future events are inherently subject to risks and uncertainties, which may be unforeseeable. Such expectations and projections may be incorrect in the future. FLS are not guarantees of future performance. Actual events could differ materially from those expressed or implied in any FLS. A number of important factors including those factors set out above can contribute to these digressions. You should avoid placing any reliance on FLS.
TD Asset Management Inc. is a wholly-owned subsidiary of The Toronto-Dominion Bank.
®The TD logo and other TD trademarks are the property of The Toronto-Dominion Bank or its subsidiaries.
---
TDAM Connections at a Glance:
Back to top
Top