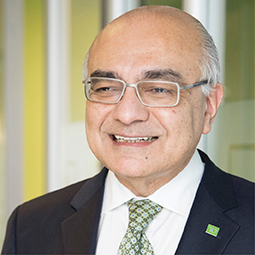 Group President and CEO's Message
TD delivered in a year of unprecedented disruption
A year for the ages
2020 has been a year like no other and I am incredibly proud of how TD responded, guided by our purpose: to enrich the lives of our customers, communities and colleagues. Through it all, we demonstrated our ability to adapt with speed in response to the global pandemic.
There is no doubt that millions have been deeply affected by the combined health and economic challenges of COVID-19. I want to thank health care workers and all who served on the front lines, including TD bankers. You kept us safe and supported essential services despite significant personal challenges and continue to do so today.
As a Bank, we have a critical role to play in the recovery – to provide advice and services to the millions we serve, to help our economies grow and our communities thrive.
Performance and strategic progress
Over the course of our 165-year history, TD's business model has continuously proven its strength, even in the face of global uncertainty and significant economic headwinds. In a year marked by a global health crisis, we delivered earnings of approximately $11.9 billion ($10.0 billion, on an adjusted basis). Although our adjusted earnings were lower in 2020 as households and businesses were impacted by the economic downturn, our Wealth, Insurance and Wholesale businesses delivered record revenue and earnings performance.
We also made important strategic progress in 2020. The transformative transaction between TD Ameritrade and The Charles Schwab Corporation closed, making TD the largest shareholder of a highly regarded U.S. investment firm with US$6 trillion in client assets.
Our balance sheet ended the year strong, with a Common Equity Tier 1 ratio of 13.1 per cent and a liquidity coverage ratio of 145 per cent, positioning TD well for the future. Once again, TD delivered for our shareholders, increasing our dividend by 8 per cent year-over-year.
This year was one of the most challenging in the history of the Bank and our results demonstrated the strength of our franchise, but there is more to the story of what we achieved this year.
Resilience and execution in a period of unprecedented change
2020 brought many challenges, but also showcased our ability to execute. We benefited from investments in new capabilities to quickly shift our operations, enable more than 60,000 colleagues to work from home, and deploy new digital assets.
---
"I firmly believe that banking serves a higher purpose, and this has never been more true than in 2020."
---
TD was there for customers when they needed us the most
Since the start of the pandemic, more than one million customers enrolled in digital banking services for the first time and digital engagement increased by 57 per cent. We also worked closely with governments in the U.S. and Canada to facilitate access to relief and support programs, and directly addressed customer concerns with programs of our own, tailoring solutions to their specific needs.
In every decision we made, we put the well-being of our colleagues and customers at the forefront
Guided by medical advice from public health officials and our own Chief Medical Director, we implemented health and safety precautions at every TD location across our footprint. Though recent news of potential vaccines is encouraging, COVID-19 remains a challenge and we will continue to focus on the safety of our customers, colleagues, and the communities we serve.
A more inclusive and sustainable future
I firmly believe that banking serves a higher purpose, and this has never been more true than in 2020.
As a result of COVID-19, many communities faced higher unemployment, deeper economic impacts, and elevated infection rates. Through the TD Ready Commitment, we launched the TD Community Resilience Initiative, allocating $25 million to organizations delivering immediate front-line services and the longer-term support needed to promote a more inclusive recovery.
Diversity and inclusion are central to our culture
We continue to work tirelessly to build a workplace and world where all can thrive. As powerful demonstrations denouncing anti-Black racism unfolded this year, we made clear where we stand and took meaningful action. We announced new commitments to grow minority executive representation and launched Bank and community efforts to tackle the impacts of anti-Black racism. At the same time, we pushed for continued progress in support of all of our diversity and inclusion objectives.
Addressing climate change is critical today and to future generations, and in 2020 TD never lost sight of this
TD recently launched a bold and ambitious climate action plan to address the challenges of climate change. This includes a target to achieve net-zero greenhouse gas emissions in our operations and financing activities by 2050. We backed this commitment with the creation of a new Sustainable Finance and Corporate Transitions Group to support clients around the world, and an Environmental, Social and Governance (ESG) Centre of Expertise to participate in the global efforts required to deliver on this long-term target.
For the seventh consecutive year, TD was recognized on the Dow Jones Sustainability World Index and this year was the only North American bank included in the ranking – a further testament to our leadership incorporating ESG practices into our business.
We face the challenges ahead with many advantages
We enter 2021 with a robust balance sheet, deep customer relationships, a strong brand, and well-positioned businesses. Though macroeconomic challenges and uncertainties remain, I am confident in the future as we work to build the Better Bank.
Together, our 90,000 dedicated and talented TD bankers around the world proved their mettle during a time of significant change. I want to thank them for their tremendous efforts, our customers for their trust, and you, our shareholders, for your continued support.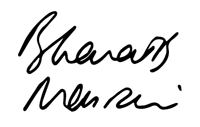 Bharat Masrani
Group President and Chief Executive Officer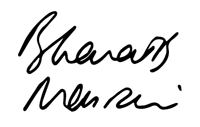 Bharat Masrani
Group President and Chief Executive Officer
back to top