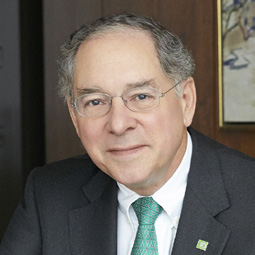 Chair of the Board's Message
This year, TD successfully steered through one of the greatest challenges in its long history. The pandemic posed the challenge of a lifetime for the health and well-being of our customers, our communities and our colleagues. Guided by our purpose and values, we delivered for all our stakeholders.
The Bank generated earnings that enabled it to build capital; set aside unprecedented provisions for credit losses; pay increased dividends to our shareholders; recognize the contribution of our colleagues with special compensation; and increase financial support for our communities. Moreover, the extraordinary engagement of our colleagues and the Bank's investments in systems and infrastructure enabled us to provide the full suite of services to our customers without interruption and to deliver government relief programs to millions of individuals and businesses.
While meeting the operational challenges posed by the pandemic, the Bank made progress on critical strategic initiatives to position itself for growth in the years to come. The pace and scope of the Bank's digital journey accelerated. The merger of TD Ameritrade with The Charles Schwab Corporation was concluded. The Bank enhanced its commitment to leadership in Environmental, Social and Governance practices with the launch of a climate action plan and a renewal and enhancement of its commitments to diversity and inclusion in its executive ranks. Investments to train and upskill our colleagues were also increased.
On behalf of my Board colleagues and all the Bank's stakeholders, I would like to thank our Group President and CEO and his Senior Executive Team for their engagement and calm leadership in these uncertain times. We also recognize the hard work and dedication of TD's 90,000 colleagues, particularly those on the front lines who, in the face of unprecedented challenges, continued to deliver the customer experience that is the TD hallmark.
I also want to express the Bank's appreciation to our shareholders for their ongoing support and to our customers for the opportunity to serve them. We will continue to strive to maintain your support and trust.


Brian M. Levitt
Chair of the Board
---
The Board of Directors
The Board of Directors as at December 2, 2020 is listed below. A full list of its committees and key committees' responsibilities can be found on page 220. Our Proxy Circular for the 2021 Annual Meeting will set out the director candidates proposed for election at the meeting and additional information about each candidate including education, other public board memberships held in the past five years, areas of expertise, TD Committee membership, stock ownership, and attendance at Board and Committee meetings.
Amy W. Brinkley
Consultant,
AWB Consulting, LLC,
Charlotte,
North Carolina
Brian C. Ferguson
Corporate Director and former President and Chief Executive Officer,
Cenovus Energy Inc.,
Calgary, Alberta
Colleen A. Goggins
Corporate Director and retired Worldwide Chairman,
Consumer Group,
Johnson & Johnson,
Princeton, New Jersey
Jean-René Halde
Corporate Director and retired President and Chief Executive Officer,
Business Development Bank of Canada,
Saint-Laurent, Québec
David E. Kepler
Corporate Director and retired Executive Vice President,
The Dow Chemical Company,
Sanford, Michigan
Brian M. Levitt
Chair of the Board,
The Toronto-Dominion Bank,
Kingston, Ontario
Alan N. MacGibbon
Corporate Director and retired Managing Partner and Chief Executive of Deloitte LLP (Canada),
Oakville, Ontario
Karen E. Maidment
Corporate Director and former Chief Financial and Administrative Officer,
BMO Financial Group,
Cambridge, Ontario
Bharat B. Masrani
Group President and Chief Executive Officer,
The Toronto-Dominion Bank,
Toronto, Ontario
Irene R. Miller
Chief Executive Officer,
Akim, Inc.,
New York, New York
Nadir H. Mohamed
Corporate Director and former President and Chief Executive Officer,
Rogers Communications Inc.,
Toronto, Ontario
Claude Mongeau
Corporate Director and former President and Chief Executive Officer,
Canadian National Railway Company,
Outremont, Québec
S. Jane Rowe
Vice Chair,
Investments, Ontario Teachers' Pension Plan Board,
Toronto, Ontario
back to top