Newsroom
June 20 2023
Update: TD Greystone Target Date Plus Funds Added to the Core Investment Platform of Sun Life Group Retirement Services
We are pleased to advise that Sun Life Group Retirement Services (GRS) has added the TD Greystone Target Date Plus Series of Segregated Funds to its Core investment platform effective March 1, 2023.
For more details, read the announcement from Sun Life below.
"Date: February 21, 2023
Addition of TD Greystone Target Date Plus Funds to the Core investment platform
Plan sponsors may wish to consider whether this investment news has any implications for the investment options available within their plans. Sun Life Assurance Company of Canada purchases units of the funds listed below, which are established as segregated funds in accordance with the Insurance Companies Act (Canada).
Sun Life Group Retirement Services (GRS) is pleased to announce the addition of the TD Greystone Target Date Plus Series of Segregated Funds (the Funds) to our DC Core investment platform (Core platform). The Funds will be available beginning March 1, 2023.
We are adding the Funds to provide plan sponsors and their members with additional choice in the important Target Date category.
About the TD Greystone Target Date Plus Funds 

TD Greystone created the funds in 2014 and the series currently consists of nine funds that range in target maturity from 2025 to 2060, in 5-year increments, and a retirement fund. The Funds are a unique offering on the Core platform, due to their significant allocation to private (non-listed) alternative asset classes. The Funds each invest 20-25% in alternatives, which consist of Canadian and global real estate, global infrastructure and commercial mortgages. This allocation to private alternatives provides additional diversification and comes with unique opportunities and risks. Other target date funds available on the Core platform offer smaller allocations to alternatives that consist primarily of listed securities (i.e. real and infrastructure stocks).

The Funds' objective is to deliver strong long-term returns along with reduced return volatility as their maturity date approaches. To reduce return volatility, as the maturity date nears investments in risker assets (i.e., equities) will decrease, while investments in lower risk assets (i.e., fixed income) will increase. Primary investments include: i) equity, ii) bonds, iii) global & Canadian real estate, iv) infrastructure, and v) commercial mortgages.
The Fund series' glidepath balances market risk with timing (also known as sequence of returns risk) that a plan member faces as they approach retirement. This glidepath shape reduces equity exposure in the funds earlier than most other target date series. TD Greystone believe that the exposure to alternative investments allows this earlier de-risking. The 2060 fund vintage has an asset allocation of approximately 72% equity, 5% fixed Income and 23% alternatives. At maturity, the asset allocation is 41% equity, 34% fixed Income and 25% alternatives. The glidepath does not change after maturity.
TD Greystone is a part of TD Asset Management (TDAM). A four-person Institutional Active Asset Allocation team (IAAAT) manages the funds. They are part of the TDAM Asset Allocation team. 41 investment professionals focus on allocation research, strategy, synthetics and portfolio management make up the broader team.

IAAAT are responsible for designing strategic asset mix, fund selection and tactical asset allocation. They do this for TDAM's active balanced funds, and custom fund-of-fund solutions for institutional investors. The IAAAT team members collaborate amongst themselves as well as the broader Asset Allocation team. This collaboration is embedded through all aspects of the team's investment process.

The Funds currently invest in 15 underlying funds, all managed in-house. The underlying funds are primarily actively managed. The following are the permitted asset allocation ranges for all Funds in the series.
| | | |
| --- | --- | --- |
| Asset Class | Minimum % | Maximum % |
| Cash & Short-Term Equivalents | 0 | 10 |
| Canadian Nominal Bonds | 0 | 60 |
| Equities | 15 | 80 |
| Global Bonds | 0 | 15 |
| Real Return Bonds | 0 | 10 |
| High Yield Bonds | 0 | 15 |
| Real Estate | 0 | 20 |
| TD Greystone Real Estate Fund LP | 0 | 20 |
| TD Greystone Infrastructure Fund LP | 0 | 20 |
| TD Greystone Mortgage Fund | 0 | 20 |
The Funds' Statement of Investment Policies and Procedures (SIPP) are available on the plan sponsor website.
Below is an illustration of the glidepath."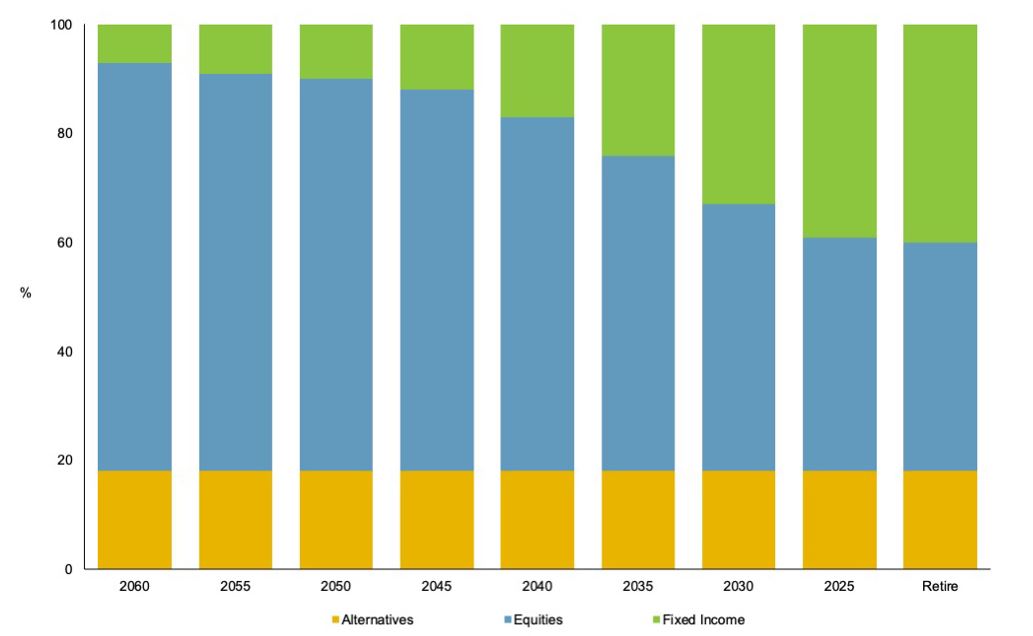 Should you have any questions, please contact your TD Global Investment Solutions Relationship Management Team.
The information contained herein is for information purposes only. The information has been drawn from sources believed to be reliable. The information does not provide financial, legal, tax or investment advice. Particular investment, tax, or trading strategies should be evaluated relative to each individual's objectives and risk tolerance. All products contain risk. Important information about the pooled funds is contained in their offering circular, which we encourage you to read before investing. Please obtain a copy. The indicated rates of return are the historical annual compounded total returns of the funds including changes in unit value and reinvestment of all distributions. Yields, investment returns and unit values will fluctuate for all funds. All performance data represent past returns and are not necessarily indicative of future performance. Pooled Fund units are not deposits as defined by the Canada Deposit Insurance Corporation or any other government deposit insurer and are not guaranteed by The Toronto-Dominion Bank. Investment strategies and current holdings are subject to change. TD Pooled Funds are managed by TD Asset Management Inc. Management fees and expenses all may be associated with mutual fund investments. Please read the fund facts and prospectus, which contain detailed investment information, before investing. Mutual funds are not guaranteed or insured, their values change frequently and past performance may not be repeated. Mutual fund strategies and current holdings are subject to change. Certain statements in this document may contain forward-looking statements ("FLS") that are predictive in nature and may include words such as "expects", "anticipates", "intends", "believes", "estimates" and similar forward-looking expressions or negative versions thereof. FLS are based on current expectations and projections about future general economic, political and relevant market factors, such as interest and foreign exchange rates, equity and capital markets, the general business environment, assuming no changes to tax or other laws or government regulation or catastrophic events. Expectations and projections about future events are inherently subject to risks and uncertainties, which may be unforeseeable. Such expectations and projections may be incorrect in the future. FLS are not guarantees of future performance. Actual events could differ materially from those expressed or implied in any FLS. A number of important factors including those factors set out above can contribute to these digressions. You should avoid placing any reliance on FLS. TD Mutual Funds and the TD Managed Assets Program portfolios are managed by TD Asset Management Inc., a wholly-owned subsidiary of The Toronto-Dominion Bank and are available through authorized dealers. TD Global Investment Solutions represents TD Asset Management Inc. ("TDAM") and Epoch Investment Partners, Inc. ("TD Epoch"). TDAM and TD Epoch are affiliates and wholly owned subsidiaries of The Toronto-Dominion Bank.
® The TD logo and other TD trademarks are the property of The Toronto-Dominion Bank or its subsidiaries.
November 10 2023 - 5 min read
November 14 2023 - 5 min read
April 01 2022 - 5 min read
March 29 2022 - 5 min read