Real estate beyond our borders
Published: 28/04/2020
Published: 28/04/2020
Investor Knowledge +
5 Minutes =
Confident Investing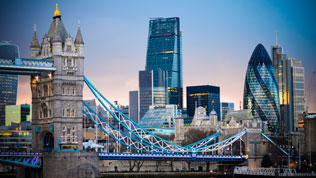 "Buy land, they're not making it anymore."~ Mark Twain
Today's search for yield is very strong. In what seems to be a never-ending low interest rate environment, more and more investors are recognizing the benefits of an allocation to commercial real estate. This unrelenting search for yield has led to an increase in the number of investment solutions being created for investors to take advantage of "real assets" and provided investors the opportunity to own a piece of the real estate pie.
Beyond borders
For some time now, institutional investors have sought yield and other potential benefits (e.g. inflation hedging, diversification, capital appreciation) through an allocation to our domestic real estate market (i.e. Canada). However, global real estate can play an ever-stronger role in providing a larger opportunity set and accompanying diversification benefits for Canadian real estate investors.
providing a larger opportunity set and accompanying diversification benefits for Canadian real estate investors. An allocation towards global real estate provides investors access to a much greater pool of options when compared to just the Canadian market. This exposure provides access to assets from around the world that have attractive yields and valuations. Moreover, this diversified approach to real estate holdings also helps to reduce portfolio risk, improve risk-adjusted returns and deliver long-term sustainable income.
An income boost
On average, income has been the largest contributor to real estate's total return (capital appreciation is the other contributor). By having exposure to multiple markets, investors have access to wider opportunity set. This in turn allows investment managers to enhance the overall performance of a real estate portfolio and increase exposure to markets that are growing at a faster pace while reducing exposure to markets growing at a slower pace.
They can also take advantage of geographic differences by increasing exposure to regions that have the most attractive risk and return profiles. By doing so, investors have the opportunity to generate long-term sustainable income streams from their portfolio.
Getting your piece of the pie
To help investors seeking regular income and capital appreciation gain access to the global commercial real estate market, TDAM offers institutional investors access through the recently launched of the TD Greystone Global Real Estate Fund L.P.
Back to top
Top