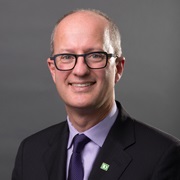 Bruce Cooper, CFA
CEO, TDAM & SVP, TD Bank Group
Bruce is responsible for all the company's business, including investment management, mutual funds, operations, risk management and distribution. He has managed Canadian, U.S., and global equities across a variety of mandates in Toronto and the U.K. Bruce holds a B. Comm. from Queen's University and an M.A. in Political Science from McGill University. He is a member of the Board of Trustees for the Canadian Coalition for Good Governance and the Investment Fund Institute of Canada.
WAYS TO INVEST WITH US
Find an Advisor
Talk to your Advisor or find a TD Advisor
Locate a Branch
Visit a Branch to talk to a Mutual Fund Representative Mutual Fund Representatives with TD Investment Services Inc. offer mutual funds at TD Canada Trust.
Invest Online
Trade with confidence using WebBroker.
Over the Phone
Got a question? Call EasyLine.
Back to top
Top