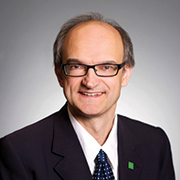 Gregory Kocik, CFA
Managing Director
Gregory Kocik, joined TD Asset Management Inc. (TDAM) in March 1997, and is currently head of TDAMs High Yield and Leveraged Finance team. As the head of this team, Gregory manages broader global leveraged finance strategy & research, is lead portfolio manager of the TD High Yield Funds and also oversees the team managing multiple High Yield mandates of various TDAM solutions. Gregory has experience in U.S. and global high yield bond management, leveraged bank lending, fixed income credit research and balanced fund fixed income management. While at TDAM, Gregory has built and led both the investment grade and high yield research groups and has been the lead portfolio manager of the fixed income component of the TD Monthly Income and the TD Dividend Income funds. Gregory started his career in corporate banking and has held progressive positions with major Canadian and international banks. He completed his studies in International Economics at University of Lodz, Poland and earned an MBA from the University of Western Ontario. Gregory is a CFA charterholder.
WAYS TO INVEST WITH US
Find an Advisor
Talk to your Advisor or find a TD Advisor
Locate a Branch
Visit a Branch to talk to a Mutual Fund Representative Mutual Fund Representatives with TD Investment Services Inc. offer mutual funds at TD Canada Trust.
Invest Online
Trade with confidence using WebBroker.
Over the Phone
Got a question? Call EasyLine.
Back to top
Top