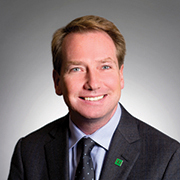 Michael O'Brien, CFA
Managing Director
Michael O'Brien joined TD Asset Management Inc. (TDAM) in 1997 and is currently head of the Core Canadian Equity team. He is lead manager of the TD Canadian Equity Fund and the TD Balanced Income Fund for TD Mutual Funds. Mike is also lead manager for the Canadian Large-Cap Equity strategies. Prior to this, Mike spent over 8 years as an equity analyst, covering numerous industries over an 8-year period with a primary focus on North American Consumer Discretionary, Consumer Staple, Media and Cable. Mike began his career at TDAM as an assistant to the Economist responsible for macro-economic and strategic analysis. Mike holds a B.A. in Political Science from Yale University and an M.A. in Political Science from Dalhousie University Michael is a CFA charterholder.
WAYS TO INVEST WITH US
Find an Advisor
Talk to your Advisor or find a TD Advisor
Locate a Branch
Visit a Branch to talk to a Mutual Fund Representative Mutual Fund Representatives with TD Investment Services Inc. offer mutual funds at TD Canada Trust.
Invest Online
Trade with confidence using WebBroker.
Over the Phone
Got a question? Call EasyLine.
Back to top
Top