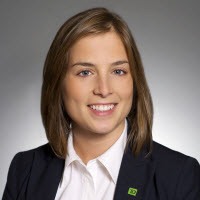 Nicole Buchner, CFA
Vice President
Nicole Buchner joined TD Asset Management Inc. (TDAM) as an active member of the Fixed Income Trade Desk in 2008, after two years as a Senior Analyst with TD Securities Inc. She is currently a senior member of the TDAM Fixed Income team and her responsibilities include portfolio management. Prior to managing fixed income portfolios, Nicole was a derivatives portfolio manager, responsible for institutional asset overlay, currency overlay, and duration-extension solutions. Before joining TD Bank Group in 2006, she held various roles in Mutual Fund, Foreign Exchange, and Real Estate firms. She earned a Specialist Bachelor of Commerce & Finance from the University of Toronto with a major in Economics. Nicole is registered as a Commodity Trading Manager and a CFA charterholder.
WAYS TO INVEST WITH US
Find an Advisor
Talk to your Advisor or find a TD Advisor
Locate a Branch
Visit a Branch to talk to a Mutual Fund Representative Mutual Fund Representatives with TD Investment Services Inc. offer mutual funds at TD Canada Trust.
Invest Online
Trade with confidence using WebBroker.
Over the Phone
Got a question? Call EasyLine.
Back to top
Top