Morgan Stanley Investment Management Inc.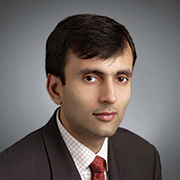 Ruchir Sharma, CFA
Managing Director
Ruchir Sharma joined Morgan Stanley in 1996 and has 12 years of investment experience. He is co-head of the Emerging Markets Equity team and a member of the Global Tactical Asset Allocation investment team. Ruchir is currently a columnist with Newsweek, where he writes on the global political economy. He also is a frequent contributor to industry publications such as the Wall Street Journal and The Economic Times (India's leading financial daily), for which Ruchir has been writing since 1991. Prior to joining the Firm, he worked with Prime Securities Ltd (Delhi), a non-banking financial services firm, where he ran the firm's foreign exchange business. Ruchir received a B.A. with Honors from the Shri Ram College of Commerce, Delhi in Commerce.
WAYS TO INVEST WITH US
Find an Advisor
Talk to your Advisor or find a TD Advisor
Locate a Branch
Visit a Branch to talk to a Mutual Fund Representative Mutual Fund Representatives with TD Investment Services Inc. offer mutual funds at TD Canada Trust.
Invest Online
Trade with confidence using WebBroker.
Over the Phone
Got a question? Call EasyLine.
Back to top
Top