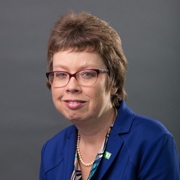 Toni Evans, CPA, CA
Managing Director, Regulatory & Policy Governance
Toni Evans joined TD Asset Management Inc. (TDAM) in November 2003. As Managing Director, Regulatory & Policy Governance, her responsibilities include monitoring and controlling regulatory and operational risks affecting the operations of TDAM. She is also Chair of the company's trade management oversight committee which has oversight related to trade execution processes including best execution. Prior to joining TDAM, Toni worked for a major Canadian insurance company overseeing compliance and regulatory matters for their investment and asset management operations in Canada, US, UK, and Hong Kong. She has also worked for a large public accounting firm auditing mutual funds, investment management companies and brokerage firms. Toni received her Bachelor of Commerce degree from the University of Toronto and became a Chartered Accountant, Chartered Professional Accountant.
WAYS TO INVEST WITH US
Find an Advisor
Talk to your Advisor or find a TD Advisor
Locate a Branch
Visit a Branch to talk to a Mutual Fund Representative Mutual Fund Representatives with TD Investment Services Inc. offer mutual funds at TD Canada Trust.
Invest Online
Trade with confidence using WebBroker.
Over the Phone
Got a question? Call EasyLine.
Back to top
Top