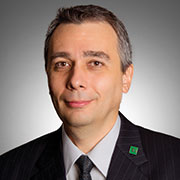 Yuriy Bodjov, CFA
Vice President & Director
Yuriy Bodjov joined TD Asset Management Inc. (TDAM) in 2008. He is responsible for the research and development of low volatility, absolute return and derivatives strategies as well as quantitative risk modeling. Yuriy has more than ten years of portfolio management experience. Before joining TDAM, he was director and portfolio manager at a large institutional fund manager where he managed tactical asset allocation strategies. Prior to that, Yuriy was Portfolio Manager of U.S. and international equities as well as fixed income portfolios at prominent investment management firms. He also worked as a senior consultant at one of the best known international risk analytics consulting firms. Yuriy has Master's degrees in Economics from the University of National and World Economy in Sofia, Bulgaria and from the Université du Québec à Montréal. He is a CFA charterholder.
WAYS TO INVEST WITH US
Find an Advisor
Talk to your Advisor or find a TD Advisor
Locate a Branch
Visit a Branch to talk to a Mutual Fund Representative Mutual Fund Representatives with TD Investment Services Inc. offer mutual funds at TD Canada Trust.
Invest Online
Trade with confidence using WebBroker.
Over the Phone
Got a question? Call EasyLine.
Back to top
Top