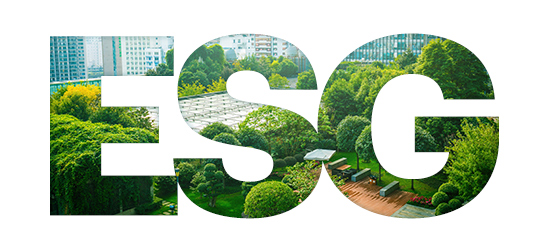 | | | |
| --- | --- | --- |
| Investor Knowledge + | | 10 Minutes = Confident Investing |

"I believe that every right implies a responsibility; every opportunity, an obligation; every possession, a duty."~John D. Rockefeller
Environmental, social and governance (ESG). The investment industry's flavour of the month (possibly year)? A fad today which will soon sizzle and fade to black and be replaced by the next big fad?  We say unlikely – and for good reason. 
According to Global Sustainable Investment Alliance, ESG investing – strategies that take a company's environmental, social and governance factors into consideration - grew to more than $30 trillion USD in 2018*. And momentum is growing. As investors' demand for transparency increases and their social conscious continues to grow, that number is set to keep rising.
ESG strategies are not new, with the term ESG dating back to 2004. What has changed though is that where ESG was once seen as detrimental to a portfolio's return and using this strategy was uncommon, it has now almost become the norm.
TDAM an early participant in sustainable investing
ESG is also nothing new for TDAM. Over 10 years ago in April 2009, TD Asset Management Inc. (TDAM) became a signatory of the Principles for Responsible Investment (PRI) and adopted a Sustainable Investing Policy.
The PRI is as a platform linking the United Nations and the global financial sector which was launched in 2006 by a partnership between the United Nations Environment Program (UNEP) and the financial sector. International investors collaborated to create six Principles for Responsible Investment, with the goal of understanding the implications of sustainability for investors and supporting signatories as they incorporate these principles into their investment decision making and ownership practices.
TDAM, as a manager of a wide range of investment products, realized that incorporating sustainability criteria within our investment framework was compatible with our goal of maximizing long-term financial returns. Considering ESG factors not only contributes to the greater good, it also provides TDAM with a more robust view of potential risks and opportunities that are likely to influence the value of an investment.
In many ways, the Sustainable Investing Policy formalized an approach that TDAM had employed for quite some time. For example, our equity managers would consider it in areas such as proxy voting, and our fixed income managers would consider it as part of their credit research on active fixed income mandates.
---
A common misunderstanding …
ESG is often mistaken for ethical or Socially Responsible Investing (SRI) or "impact" investing. Although there might be some overlap between the two, they are different.
Within an SRI framework, an investment strategy will seek to consider both financial return and social good (often avoiding alcohol, weapons and tobacco companies), whereas ESG involves enhanced analysis of companies and a better understanding of overall risk — both financial and non-financial.
---
Taking ESG to another level
After adopting the PRI framework, the various TDAM investment teams, including the fixed income and fundamental equities teams, introduced their own ESG analysis to evaluate both risks and opportunities based on their investment processes. TDAM also created an ESG engagement committee where senior members from each investment team participate on crafting TDAM's firmwide ESG activities. These include the type, quantity and scope of ESG engagements, our proxy voting process and progressing TDAM's ESG efforts.
TDAM's approach to sustainable investing is broadly based on the six principles set out in the PRI:
Integration — We integrate ESG factors directly into our investment analysis by maintaining a database of sector specific and thematic ESG research. 
Active Ownership — We strive to be active owners by engaging with the companies in which we invest and by taking advantage of our voting rights to help effect change.
Disclosure — We collaborate with regulators to ensure that securities filings disclose key ESG facts in plain language.
Advocacy —  We continue to encourage others in the investment industry to embrace sustainable investing. We do this by helping to educate the business media, speaking at industry conferences and sharing our experience as a PRI signatory with firms that are considering becoming signatories.
Collaboration — Our chances for success are sometimes better when we collaborate with other institutional investors. Therefore, we participate in initiatives that make collective action easier, including the Carbon Disclosure Project (CDP) Climate Change, CDP Water, CDP Forests, CDP Carbon Action and the Canadian Coalition of Good Governance.
Reporting — To help investors and potential investors understand our approach in more depth, our website includes an annual report disclosing how we have delivered on our PRI commitments, plus annual reports disclosing how we have voted at hundreds of company meetings.
TDAM has a long history of promoting good governance at the companies in which we invest. For more information and to review the policy, please visit our About Us page on our website.
*Global Sustainable Investment Alliance, 2018 Global Sustainable Investment Review.
---
The information contained herein has been provided by TD Asset Management Inc. and is for information purposes only. The information has been drawn from sources believed to be reliable. The information does not provide financial, legal, tax or investment advice. Particular investment, tax, or trading strategies should be evaluated relative to each individual's objectives and risk tolerance.
TD ETFs are managed by TD Asset Management Inc., a wholly-owned subsidiary of The Toronto-Dominion Bank.
All trademarks are the property of their respective owners. 
® The TD logo and other trade-marks are the property of The Toronto-Dominion Bank. 

---
TDAM Connections at a Glance:
Back to top
Top