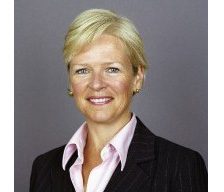 Colleen Johnston chairs the Women in Leadership Committee
Women in Leadership
TD has made great progress in this area and we are always looking for ways to improve. Our approach includes identifying and developing leadership candidates from within, providing networking opportunities and leading by example. Our 2009 results show that this is paying off.
As TD is one of the top three banks in terms of the representation of women in senior positions (as of December 2008), we are a leader across industries in Canada.
Five of the 17 members of the TD Board of Directors are women.
Women make up 33.78% of our vice presidents, senior vice presidents and executive vice presidents.
Our Performance
Representation of Women at TD (%)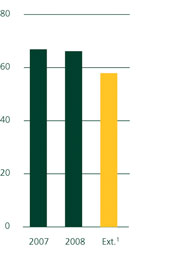 TD Diversity Inclusiveness Survey (% points)2
The Women in Leadership (WIL) network is an internal initiative and comprises 12 chapters representing over 2,000 women across Canada and the U.S. These chapters work on creating networking opportunities for women.
Through employee focus groups we learned that flexibility is important to our employees, particularly our female employees. We are working to make this more achievable at all levels.
The Women's Executive Network (WXN) releases a ranking of Canada's 100 Most Powerful Women to celebrate what it describes as "the most exceptional and influential women" in the country. This year, we were thrilled that two TD leaders – Kerry Peacock, Executive Vice President Branch Banking, TD Canada Trust, and Teri Currie, Executive Vice President Human Resources and Corporate and Public Affairs – were among the winners. Teri Currie now joins Colleen Johnston, Group Head Finance and Chief Financial Officer, in the WXN Hall of Fame.
Colleen Johnston was also named by U.S. Banker as one of the 25 most powerful women in banking and Linda Verba, Executive Vice President, Store Operations and Service Programs for TD Bank, as one of the 25 women to watch.
Our goal is to have women make up 35% of our executive population by the end of 2011. We plan to accomplish this by developing our leadership pipeline inside the bank and sourcing candidates from the broadest available talent pool when there is a need to hire externally. We work with executive search firms who understand our commitment to diversity. TD became a founding member of the Canadian Board Diversity Council to help corporate Canada increase representation of women on boards of directors.
1 External labour pool data is taken from the 2006 Census survey and 2006 Participation and Activities Limitation survey, both conducted by Statistics Canada, and customized to a reasonable recruitment pool for TD.
2 The TD Diversity Inclusiveness Survey refers to Canada only at this time.