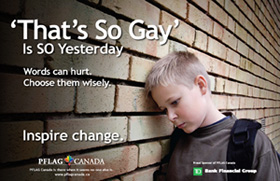 TD supported a PFLAG poster campaign to inspire change.
Community Diversity
Celebrating and recognizing diversity in all the communities we serve
The majority of activities we support reflect our own diversity priorities: visible minority groups, women, people with disabilities, the lesbian, gay, bisexual, transgender and allies (LGBTA) community and, in Canada, Aboriginal communities.
Here are some examples:
TD is one of the founding members of the new Canadian Board Diversity Council (CBDC), which works to increase the representation of women on boards.
In the U.S., TD Bank sponsored the National Association for the Advancement of Colored People's (NAACP) national convention.
TD continues to foster our relationships with Mayfest, People in Motion, Chair Aware (Muscular Dystrophy) and the No Limits Wheelchair Relay Challenge (CPAO) and in 2009 sponsored City Mix, a Toronto event that celebrated inclusion for people of all abilities.
We've taken a leadership role in the LGBTA community by sponsoring events and programs such as Pride festivities and awareness campaigns. TD is the Premier Sponsor of Toronto's Pride Week and actively participated in the city's winning bid to host World Pride 2014. The final two cities vying to host World Pride were Toronto and Stockholm, Sweden. With a two-thirds majority vote needed to win, a second round of voting took place, resulting in a resounding 78% yes for Toronto!
TD Bank was a bronze sponsor for the Boston Gay Pride Parade in June. A TD WOW! van was present at the parade and employees from various business lines walked under the TD Banner.
In 2009, TD announced over $1.5 million to support Aboriginal initiatives at Canadian universities:

$500,000 to the University of Victoria to build an on-campus First People's House;
$50,000 to the University of Manitoba to help build understanding of how best to support post-secondary Aboriginal students; and
$1,000,000 to the University of British Columbia to create an endowment fund to provide business education to Aboriginal students. "This generous donation will help UBC further its goal of creating learning environments and support mechanisms that reflect the specific needs of Aboriginal students," says UBC President Stephen J. Troope.

We also established the TD Aboriginal Nursing Fund, which provides 24 students with the financial support to help them further their education and helps meet the demand for more Aboriginal nurses across Canada.
In June, TD Economics published a report discussing the potential for economic transformation among Aboriginal Peoples and their communities. The report credits an alignment of interests between Aboriginal communities, business and governments as the main driver of improved conditions.
Highlights
In 2009 TD donated $5.05 million in Canada to community programs and initiatives that support diversity.