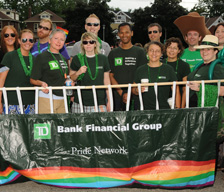 Lesbian, Gay, Bisexual, Transgender and Allies (LGBTA)
We are committed to creating an inclusive and welcoming workplace for LGBTA employees. Within the TD workplace, an ally is an employee who helps build a more inclusive environment and works to find common ground with others.
Our Employee Pride Network shapes our strategy and allows employees to share ideas and experiences. With local networks in Toronto, Montreal, London, Edmonton, Calgary, Vancouver, Kitchener/Waterloo, Mississauga/Peel/Halton and Ottawa, more than 1,000 employees have joined the network since 2005.
In 2009, TD Bank in the U.S. launched its Employee Pride Network as part of the larger TDBFG network. Over 100 employees have already joined!
We also organize annual employee Pride receptions in communities across North America, hosted by various members of our senior executive team (including President and CEO Ed Clark). More than 1,100 employees and community partners attended employee Pride receptions.
Our Performance
TD Diversity Inclusiveness Survey
(% points)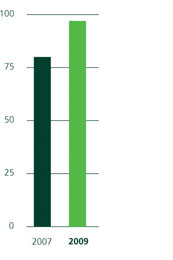 Why are there no statistics on LGBT representation at TD? The TD Employment Equity Survey gathers data on the representation of groups within our employee population to meet Canadian federal requirements. Reporting on LGBT employee population statistics is not part of the current legislative requirements, and this is why representation numbers are not shown.
Based on focus groups with employees who identified as lesbian, gay or bisexual, we will continue to work towards a more inclusive environment, especially for women who identify as lesbian, bisexual and transgender. Our Employee Pride Network experienced 100% growth in 2009 to over 1,000 members. This is an encouraging sign that more employees are feeling supported in the workplace.
In 2009:
TD Bank was recognized by the Human Rights Campaign, the largest civil rights organization in the U.S. focused on lesbian, gay, bisexual and transgender (LGBT) equality, as being among America's Best Places to Work for LGBT employees. TD Bank earned a perfect score of 100 in the 2010 Corporate Equality Index (CEI), an annual report card that surveys and rates employers' treatment of LGBT employees.
In our ongoing efforts to provide a respectful and inclusive work environment for all employees, TD developed Workplace Gender Transition Guidelines for both Canada and the U.S. The guidelines are intended for people who may be or are transgender, their coworkers, people managers and HR representatives. It covers best practices, terminology and planning for a transition. We expect these best practices to be followed throughout our operations in North America and hope that they will not only create a more inclusive environment for employees, but also help us to better address transgender customers.
2 The TD Diversity Inclusiveness Survey refers to Canada only at this time.