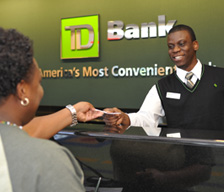 Visible Minorities Leadership
TD is a leading employer of people from visible minority groups. Our efforts have resulted in improved representation of visible minorities at TD. Visible minorities make up 8.11% of our vice presidents, senior vice presidents and executive vice presidents.
We will continue to work hard to gain a higher profile within these communities and to communicate a positive message about the financial-services industry, which might otherwise be overlooked as a career choice.
Representation of Visible Minorities at TD (%)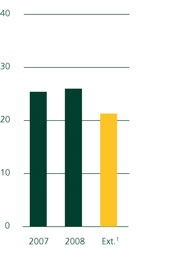 TD Diversity Inclusiveness Survey (% points)2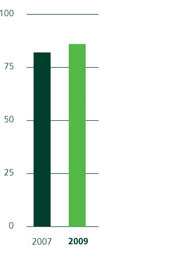 We will also focus on developing our leadership pipeline, building from within where we can, to increase representation of visible minorities at the senior levels of the organization.
Programs and initiatives for 2009:
We reached out to potential visible minority employees through relationships with organizations like the National Black MBA Association and the Urban Financial Services Coalition.
Through our support of Career Bridge, TD offers paid internships to internationally trained professionals trying to establish a new life in Canada.
We also work with ACCES Employment Services to introduce recent graduates from the ACCES Financial Services Connection program to recruitment managers from TD. This program supports internationally trained finance professionals who are seeking work in Canada.
In 2009, for the second consecutive year, TD was recognized as a Best Employer for New Canadians by Mediacorp Canada.
TD hosted its first Black History Month reception in 2009 with about 240 attendees and established a black employee community network,