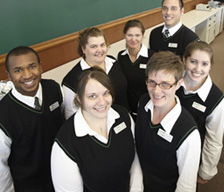 Employees
Making TD an extraordinary place to work
We want to be the better bank for our employees, as well as our customers and our shareholders. We're constantly looking to improve our work environment and invest in areas that matter most to our employees.

TD Story
Employee Appreciation Week: June 2009
MORE

TD Case Study
Integration of TD Bank, America's Most Convenient Bank
MORE
---

"Talk about pin pride – it's a pretty cool feeling to be in Manhattan on vacation and see the familiar green shield."
Nick Podetz, Toronto, Ont.
Our Approach
TD employees define an "extraordinary place to work" as an inclusive organization where all employees have opportunities to grow personally and professionally and where their views are heard and respected.
On the street, you can spot a TD employee by the green pin. For many employees, wearing the TD pin is a source of great pride.