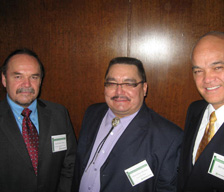 Bill Hatanaka with Chief Nolan and Chief Hudson
Aboriginal Peoples
This year, we launched our Aboriginal Employee Circle, which includes representation from both Aboriginal and non-Aboriginal employees across TD in Canada, from coast to coast to coast. Membership in the circle grew to more than 50 employees in just a few months.
Our Performance
Representation of Aboriginal
Peoples at TD (%)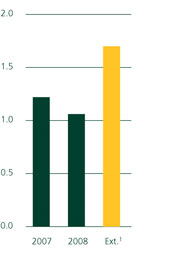 TD Diversity Inclusiveness Survey (% points)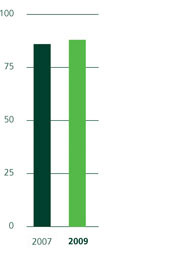 Aboriginal Peoples constituted 1.06% of our Canadian workforce at the end of 2008, and we will continue to work to increase their representation within TD.
We continue to focus on addressing employment and career development of Aboriginal Peoples within TD in Canada. We face a continuing challenge in recruiting Aboriginal Peoples into our workforce, and our representation is still not where we'd like it to be. Aboriginal workers have not generally embraced employment within the financial services industry. We need to work on enhancing the profile of banking as a career option within these communities so that TD can attract more Aboriginal employees.
TD participated in external recruitment events, such as Inclusion Works 09 in Vancouver and the Career Connections Job Fair in Winnipeg, and established connections with organizations such as Nokee Kwe in London, Ontario, and the Aboriginal Human Resource Development Agreement holders.
As a member of the Financial Industry Partnering for Aboriginal Relationships, a multi-bank committee, TD assisted in the development of a website to boost awareness among Aboriginal Peoples of banking as a viable career opportunity.
1 External labour pool data is taken from the 2006 Census survey and 2006 Participation and Activities Limitation survey, both conducted by Statistics Canada, and customized to a reasonable recruitment pool for TD.
2 The TD Diversity Inclusiveness Survey refers to Canada only at this time.