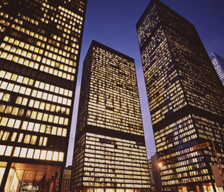 Economy
Outperforming through an economic downturn
The sustainability of a company is characterized by its ability to weather both good and bad times. At a time when many banks around the globe were retrenching or retreating, TD maintained a position of strength and has continued to grow.

TD Story
Agri-business
MORE

TD Case Study
Small Business Webinars
MORE
---
Our Approach
With the right strategy and by operating with excellence, a strong business like TD can be successful even in a tough economic environment.
We believe that responsible economic growth benefits all of our stakeholders and contributes to the overall health and prosperity of the communities and people we serve.
We contribute to the economy by financing business start-ups and growth, by sustaining and creating jobs, by paying taxes and by contributing financially to the communities where we work and live.